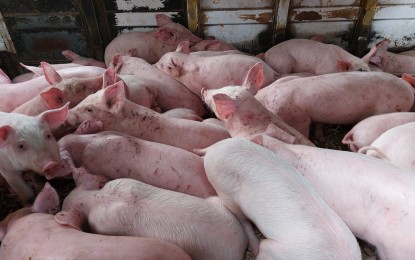 LEGAZPI CITY – The Department of Agriculture (DA) has approved a grant of around PHP5.5 million for the establishment of a Bio-secured and Climate-Controlled Finisher Operation facility in the northern portion of this city.
Mayor Geraldine Rosal, in an interview on Wednesday, said preparations are underway for the construction of the piggery building within the 3.2-hectare land area in Barangay Buyuan owned by the family of Aldine Miña, the president of the Legazpi Livestock Poultry Raisers Agriculture Cooperative (LLPRAT).
Rosal said the project will contribute an additional supply of swine that can help stabilize the prices of pork in the market.
"The piggery facility project would be a safer place for raising pigs to make sure that the animals are free from any diseases and viruses to sustain the hog industry in the community, adding that it will also give an additional income to all the members of the cooperative," Rosal said.
She said the facility is part of the implementation of the Integrated National Swine Production Initiatives for Recovery and Expansion (INSPIRE) program of the national government through the DA that aims to reduce the price of meat products in the market.
"I will encourage the other farmers to join in the LLPRAT for them to avail the benefits from the government," Rosal said.
Of the budget, Miña said PHP4.1 million will fund the construction of the facility, PHP900,000 for the purchase of an initial 150 pigs and PHP500,000 will be used to buy feeds.
He said the DA will supervise the construction of the building which is expected to be finished in the first quarter of 2023.
Miña said the project is part of the repopulation program of the agency to increase the supply of pigs and lessen the importation of pork and other meat products.
"All the people who want to enter the facility will use Personal Protected Equipment (PPE) to prevent any infectious materials that can affect the health condition of pigs," he noted.
After its construction, he said the DA will turn over the building to the City Veterinary Office (CVO), which, in turn, will turn it over to the LLPRAT for management.
Miña said he will also ask the city government for its counterpart budget for the installation of electricity and water in the facility. (PNA)