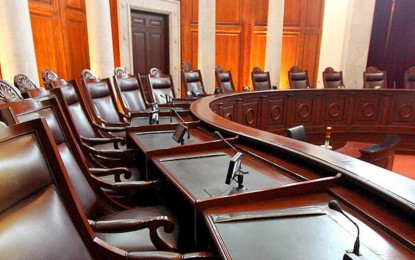 MANILA – A ranking lawmaker on Wednesday joined calls for "serious sanctions" against individuals who threaten judges and hurl unfounded allegations against officers of the court.
In a statement, House Committee on Human Rights chairperson Bienvenido Abante Jr. stressed the need for zero tolerance for those who disrespect the judiciary and the rule of law.
"An independent and impartial Judiciary is an essential component in efforts to promote human rights," Abante said.
This, as the Manila lawmaker, decried the recent red-tagging of Manila Regional Trial Court (RTC) Branch 19 Judge Marlo Magdoza-Malagar, as well as that of her husband, University of the Philippines Cebu Chancellor Leo Malagar.
Magdoza-Malagar junked the government's petition filed in 2018 to declare the Communist Party of the Philippines-New People's Army (CPP-NPA) as a terrorist group.
"We all want an end to the communist insurgency, but attacking the Judiciary and eroding faith in our magistrates will not help us accomplish this task," Abante said.
He said statements that incite violence against judges and lawyers "are no different from physical attacks or attempts on their lives."
"Unpunished acts of belligerence directed at officers of the court contribute to a culture of impunity that emboldens those who believe they can bend the Rule of Law to their will," he added.
Aside from punishing erring individuals, Abante said the government should step up efforts to find and convict those responsible for the murders of judges and lawyers.
Abante noted that from July 2016 to December 2021, 66 lawyers have been killed, including judges and government prosecutors.
"If we want to send a strong signal that our country values the Rule of Law and human rights, then we can start by defending the men and women duty-bound to champion these bedrocks of our democracy," he said.
On Tuesday, the Supreme Court (SC) said it is looking into possible legal actions against former National Task Force to End Local Communist Armed Conflict (NTF ELCAC) spokesperson Lorraine Badoy for allegedly red-tagging and harassing Magdoza-Malagar.
Security measures in place
Meanwhile, the Philippine National Police (PNP) assured that measures are in place to protect members of the judiciary against threats, intimidations, and crimes, including those through the internet and social media.
"We acknowledge that the judiciary is an independent and distinct branch of the government, and we value their key role in a democracy like our country in protecting fundamental rights, settling disputes, and administering justice, among others," PNP public information office chief Brig. Gen. Roderick Augustus Alba said in a statement.
Alba said the PNP "will always be on the side of the law" to ensure the safety of court officers for them to be able to promulgate decisions without fear of reprisal or retribution.
As part of efforts to establish greater collaboration with the judiciary, Alba said the PNP-Anti-Cybercrime Group's (ACG) Regional Anti-Cybercrime Unit (RACU) chiefs and District Anti-Cybercrime (DAC) team leaders will also be rendering courtesy calls to judges and prosecutors in their respective areas of responsibility to offer the ACG's assistance and provide lectures on cyber awareness.
"This is to maintain close coordination and build rapport with our community partners and stakeholders to make our presence felt and to promote our services to the general public," he said. (PNA)