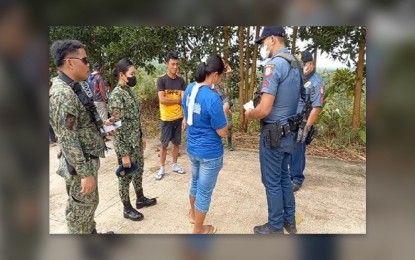 ILOILO CITY – Separate operations conducted by the various police units of the Capiz Provincial Police Office in Dumalag and Pontevedra towns have led to the arrest of a former member and an active member of the New People's Army (NPA) wanted for various crimes.
Major Grace Borio, spokesperson for the Police Regional Office in Western Visayas (PRO 6), attributed the arrest to the strong community partnership of the local police with the people and the government's program to end local communist armed conflict (ELCAC).
"They gave information of the whereabouts. People in the hinterlands are aware of the evils of communism and they already want a safer community," Borio said on Wednesday.
Borio identified the suspects as Michelle Penequito, 33, arrested on Sept. 26 at Barangay Santa Carmen, Dumalag; and Carina A. Oliveros, 38, who was served with an arrest warrant on Sept. 19 at Barangay Lantangan, Pontevedra.
Penequito, according to report, was a former member of the Igabon Platoon, under Komiteng Rehiyon Panay and allegedly was behind the ambush of government troops on Aug. 28, 2011 at Barangay Switch, Tapaz, Capiz together with other rebels.
She is charged with murder and rebellion.
Oliveros, who is facing a murder charge, was the medic and political guide of the 1st Platoon Bataan- Zambales, Provincial Party Committee Central Luzon, Regional Committee of Communist Party of the Philippines-New People's Army (CPP-NPA).
She was implicated in a shooting incident in Barangay Iba, San Jose, Tarlac in May 2013 that killed a village chief. The culprits were believed to be rebels.
Borio said the PRO 6 leadership under Regional Director, Brig. Gen. Leo M. Francisco, has commended the police units for their "high impact accomplishment" against the communist terrorist group. (PNA)