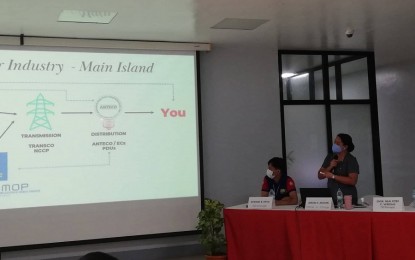 SAN JOSE DE BUENAVISTA, Antique – The Antique Electric Cooperative (Anteco) has welcomed the inquiry to be conducted by the provincial board on its power rate, which is the highest among the electric cooperatives in Western Visayas.
"Anteco is open for investigation, we welcome the inquiry of our honorable Sangguniang Panlalawigan anytime," said Anteco officer-in-charge Jerose Mioten in a press conference on Wednesday.
On Tuesday, Governor Rhodora Cadiao requested the provincial board to investigate why Anteco has the highest power rate in the region.
Mioten said the September rate of PHP16.17 per kilowatt hour (kWh), which is higher when compared with August's PHP14.4016/kWh was due to the pass-on charges of their power suppliers.
Of the PHP16.17 rate, only PHP2.48/kWh goes to the distribution charge.
The increase of PHP2 per kilowatt hour was reflected in the Aug. 20 to Sept. 19 billing period.
"There had been an increase on the generation and transmission charges by the companies where we source out our electricity," she said.
The hike in the generation charge was due to the increase in the price of coal being used by power generators while the increased transmission rate was due to the high cost of fuel.
The payment is computed in US dollars and the weak peso has resulted in the increase in the pass-on rates.
Edward Enila, Anteco's finance section division head, said the price of coal being sourced out by the power generators for their plants had gone up because of the Ukraine war.
"The price of coal had almost doubled," he said.
The generation charge goes to the National Grid Corporation of the Philippines and the Independent Electricity Market Operators of the Philippines that supply power to Anteco. (PNA)