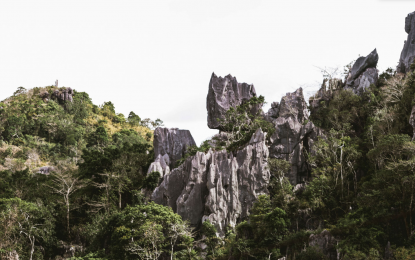 MANILA – Masungi Georeserve has bagged the United Nations Sustainable Development Goals (UN SDG) Action Award, besting more than 2,000 other entries from over 150 countries.
Under the Inspire category, Masungi Georeserve Foundation topped the competition for its youth-led efforts in combating deforestation and climate change through the restoration and protection of the Masungi landscape and parts of the Upper Marikina Watershed.
The judges commended Masungi for being "bold enough to participate in national legislative inquiries and direct lobbying".
"They commended the team for going above and beyond through their engagement with the general public; the creativity of their successful storytelling and expressed deep admiration for the courage and engagement of these activists, rangers and passionate environmental defenders," the awarding committee said.
"It recognizes the importance of building allies through lobbying and tourism campaigns to be central to real sustainability. This deeply holistic change is how sustainable change happens," it added.
The UN SDG Action Awards are a signature program of the UN SDG Action Campaign, identifying changemakers across the world who have been rethinking ways to drive progress towards the 2030 Agenda.
The open call for submission received over 3,000 applications, culminating in a list of nine finalists in the categories Mobilise, Inspire, Connect, and a unique Award recognizing Changemakers.
The awards ceremony was held in Bonn, Germany on Sept. 27. (PNA)