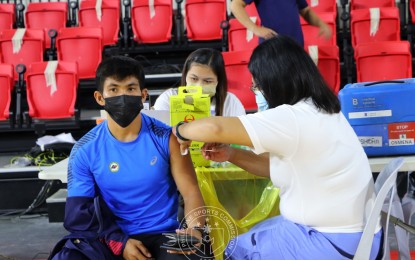 MANILA – The Philippine Sports Commission (PSC) provided booster shots to its employees and even the national athletes and coaches who have yet to receive one as the sports agency continues its fight against the coronavirus disease 2019 (Covid-19).
On Wednesday, close to 400 booster vaccines were inoculated to the PSC employees and national team members during a vaccination drive at its office in Manila.
Almost half of the shots--more than 160--were given to the athletes and coaches in the sports of canoe-kayak, baseball, karate, rowing, table tennis, judo, kurash, gymnastics, taekwondo, water polo, and diving.
Headlining the Nationals who took their booster shots were Tokyo Olympian Cris Nievares and national dragon boat team pacer John Paul Selencio.
"It is vital that we remain vigilant and protected against Covid-19. Our athletes, coaches, and employees who serve them need to be secured, protected, and cared for as we begin the transition and the return of our sports activities and events," PSC chairman Noli Eala said. (PNA)