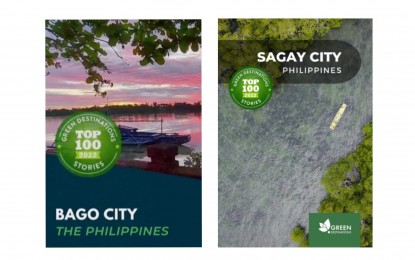 BACOLOD CITY – The cities of Bago and Sagay in Negros Occidental have made it to the world's Top 100 "Green Destinations" list for 2022, a recognition given by the Green Destinations Foundation based in The Netherlands.
The two cities, being featured for their sustainability stories, are among the only three places in the Philippines listed this year along with Club Paradise Palawan.
The awarding rites were held at Kypseli Municipal Market Fokionos Negri 42 in Athens, Greece on Tuesday night.
Bago City Mayor Nicholas Yulo said the international distinction for the southern Negros city's efforts to protect and conserve the Bago Watershed is "truly inspiring".
"This is a true testament of a collaborative effort among various stakeholders -- the government, non-government organizations, and the community," he added.
He said the recognition would surely motivate the people of Bago to do more to sustain the preservation and conservation of the Bago Watershed for the many generations to come.
On behalf of Yulo, Councilor Ma. Josefa Matti, chair of the City Council's committee on tourism, and City Tourism Officer Mae Ann Furtos flew to Athens, Greece to receive the award from Green Destinations president Albert Salman and certification manager and board member Hugo de Jong.
Green Destinations noted that the Bago Watershed faces a lot of issues that gravely threaten its equilibrium like water pollution or degrading forest cover, and the solution was a diverse combination of assisted natural regeneration in Mount Kanlaon Natural Park or waste management and pollution control.
"Through effective governance, capacity building programs and involvement of local stakeholders, the city has been able to revive the rich biodiversity of the Bago Watershed," the international organization said.
Over at Sagay City, which was recognized for the 32,000-hectare protected seascape, the Sagay Marine Reserve, Mayor Narciso Javelosa Jr. said the international recognition is such an honor.
"It is a tribute to our past and present leaders and men and women who worked hard for its decade of protection," he added.
Vice Mayor Leo Rafael Cueva, who championed sustainable tourism development in the city, said Sagay should continue its best efforts for the next generation.
The northern Negros city's conservation and responsible tourism story focused on the protected seascape including Suyac Island, other island communities, and the contiguous mangrove greenbelt which protected the city from strong typhoons.
Green Destinations, a global nonprofit organization that supports sustainable destinations, their businesses, and their communities, unveiled the 2022 Top 100 Stories during the Green Destinations 2022 and the Future of Tourism Summit attended by participants from at least 43 countries.
In 2018, San Carlos City in northern Negros was also chosen as among the world's Top 100 Sustainable Destinations "in recognition of its efforts towards responsible tourism and distinctive appeal."(PNA)