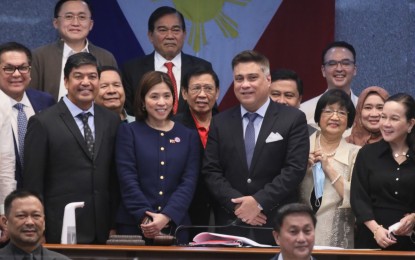 MANILA – Department of Budget and Management (DBM) Secretary Amenah Pangandaman vowed to "serve with integrity" and do her best to help find ways to uplift the lives of Filipinos.
Pangandaman made this remark as she breezed through the Commission on Appointments (CA) with no objections in the committee meeting and Senate plenary session on Wednesday.
The CA, chaired by Senate President Juan Miguel Zubiri, confirmed the ad interim appointment of Pangandaman as head of the DBM.

"I am fully dedicated to bringing into this role not only an appreciation of economic policy and technical know-how on public financial management and government processes but also the values instilled in me by my mentors: That we are here not only to work but to serve, that what we have is not only a process but a purpose, and above all, that we must always serve with integrity as we do our best to find ways to uplift the lives of the Filipino people," she said.
Pangandaman, who previously described herself as "a Maranao with roots from the south", said she believes in the Marcos administration's vision for inclusive and sustainable growth in the country.
"I am determined to do my best, along with the other economic managers, to achieve our dream for this country of eradicating poverty and achieving upper middle-income status; to achieve the dream of a better Philippines for all, including and especially for those in the farthest areas who are often neglected, like Mindanao, where I am from," she added.
In her over two-month stint as DBM Secretary, Pangandaman said the first budget her department proposed with her team–the 2023 National Expenditure Program–is fully aligned with the President's vision, medium-term fiscal framework, and 8-point socioeconomic agenda.
"This is why we are investing heavily in infrastructure, agriculture, health, human capital development, and social protection. Investment in these sectors will ensure our continued economic growth while taking care of our people," she said.
Mentored by the best
Pangandaman described her presence in the confirmation hearing as a "meaningful moment" for her because she started her public service career in the Senate.
"I have great respect and admiration for the Senate as an institution, having spent more than 10 years in the upper house: first as Senate researcher then as chief-of-staff of the late Senator Edgardo Angara, whom the Senate fondly called SEJA," she said.
With almost two decades of service in government, she narrated how she learned the intricacies of the budget process especially when Angara was Chair of the Senate Finance Committee and then later when she worked for Senator Loren Legarda who also chaired the same panel.
"...The Senate has been a formidable training ground for me. And in my years with SEJA, he instilled in me the values of hard work and most importantly, reform-oriented public service," she said.
In the Executive Branch, Pangandaman said she learned the "ins and outs" of the budget process as Chief-of-Staff of former Budget Secretary Benjamin Diokno.
She eventually became Assistant Secretary and then Undersecretary.
Pangandaman said she gained an even wider perspective on the economy and finance as assistant governor of the Bangko Sentral ng Pilipinas (BSP).
"I am humbled yet proud to be here today for confirmation as Budget Secretary because I was mentored by the very best," she said.
Whole-of-government approach
Meanwhile, Pangandaman is committed to working with the different branches of government to achieve lasting change and reform, particularly in implementing the digitalization of bureaucracy as her top priority.
"As the Budget Secretary of the administration of President Ferdinand Marcos Jr., I will not only support his economic vision and agenda but also express my commitment to fully work with the different branches of government to achieve lasting change and reform," she said.
She underscored her push for the digital transformation of the bureaucracy through the Budget and Treasury Management System (BTMS), which is meant to improve the ease of doing business, limit human discretion and intervention, and fully enhance transparency in government transactions.
"Through this platform, all transactions will be mapped in real-time, from purchase to payment, and can provide solid data to ensure informed decision making, as well as allow secure and seamless access to public services," she said.
Pangandaman promised to build on her department's past gains such as Executive Order No. 170, which mandates the adoption of digital payments for government disbursements and collections.
She said she advocated for the EO during her time as BSP Assistant Governor.
Pangandaman expressed confidence that the implementation of the EO and the proposed Government Rightsizing Program and Cash-Based Budget System will achieve "bureaucratic efficiency to ensure quick and responsive public service delivery to the Filipino people."
She said she is determined to institutionalize much-needed reforms on procurement, through digitalization and systems improvement and on devolution in fulfillment of the Mandanas ruling.
Pangandaman also promised to prioritize strengthening local government finance and budgeting through the assistance of institutions such as the Asian Development Bank.
"I am especially keen on assisting the BARMM [Bangsamoro Autonomous Region in Muslim Mindanao] as it strengthens the region's leadership towards peace through the public financial management capacity-building programs of the DBM," she said.
Pangandaman was thankful to be given the honor to serve as DBM chief.
"I look forward to working with you all for a better Philippines. I assure you I will work with integrity and always give my best," she added.
Pangandaman was one of the three key Marcos appointees who were confirmed by the CA on Wednesday.
The other two were Foreign Affairs Secretary Enrique Manalo and Judicial and Bar Council member Nesauro Firme. (PNA)