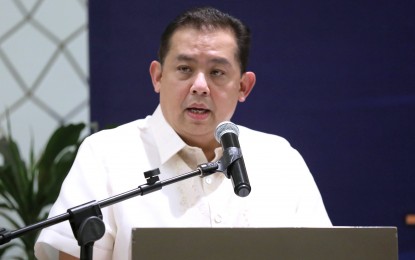 MANILA – The House of Representatives on Wednesday ratified the bicameral conference committee's report on the Subscriber Identity Module (SIM) Registration bill which, according to Speaker Martin G. Romualdez, may gain the distinction as the first law to be signed by President Ferdinand "Bongbong" Marcos Jr.
"This may be the first of the many legislative measures that will be signed and enacted into law by President Marcos Jr. in his six years of office," Romualdez said.
He said the approval of the measure is timely amid the continuing proliferation of malicious text messages meant to take advantage of unwary cell phone users and could even pose danger to people's lives and to public order.
"This Act will not only help promote responsibility in the end users of SIMs for electronic devices, but also provide our law enforcers the necessary tools to resolve crimes involving telecommunication devices," Romualdez said.
The Speaker is the main author of the House version of the proposed SIM Registration Act, with Ilocos Norte 1st Dist. Rep. Ferdinand Alexander Marcos and Tingog Partylist Reps. Yedda Marie Romualdez and Jude Acidre as co-authors.
With the reconciled measure also ratified earlier by the Senate, Romualdez expressed confidence that it will not suffer the same fate as the SIM Card Registration Act that then President Rodrigo Duterte vetoed in April this year over a provision on social media that may give rise to intrusions and violations of constitutionally protected rights.
"This bill no longer contains the controversial provision that orders the mandatory registration of social media accounts," Romualdez pointed out.
Among the key provisions of the bill include the establishment of a system of registration of SIMs for all users by the submission of pertinent data electronically through a platform or website to be provided by the Public Telecommunication Entities (PTEs).
To regulate the registration and use of SIMs, all SIMs to be sold shall be in a deactivated state. It shall only be activated after the end-user completes the process of registration.
The registration shall carry the full name, date of birth, gender, and address of the end-user appearing in a valid government-issued identification document with photo such as passport, national ID, GSIS e-Card, digitized SSS ID, driver's license, voter's ID and Senior Citizen's card among others.
It requires end-users to immediately inform the PTEs through its facility, of any change in the information after registration, including requests for deactivation.
The bill also provides provisions of confidentiality and non-disclosure of information which prohibit disclosure of any information of a subscriber, unless upon subpoena by a competent authority pursuant to an investigation based on a sworn complaint, that a specific mobile number was or is being used in the commission of a crime or that it was utilized as a means to commit a malicious, fraudulent or unlawful act.
The confidentiality clause in the SIM registration shall take effect at the point of activation.
The proposed SIM Registration Act likewise mandates the registration of all existing SIM subscribers. Failure to comply within the prescribed period stated in the bill shall authorize the PTEs to automatically deactivate its services to the specific existing SIM. (PNA)