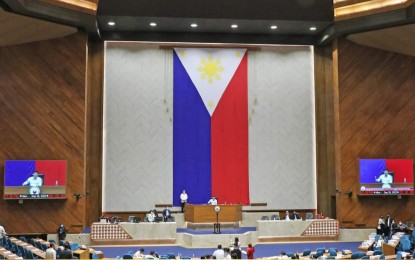 MANILA – Speaker Martin Romualdez lauded the collective determination and actions of his colleagues as he cited with pride the record accomplishments of the House of Representatives in the first 23 session days of the 19th Congress.
"For two months since the start of the 19th Congress, we rolled up our sleeves and worked for hand in hand to ensure collective and responsive action upon all pending bills and resolutions, including priority bills in the legislative agenda of our President, Ferdinand Marcos Jr.," Romualdez told the plenary before the first adjournment of Congress Wednesday night.
"Our mission from Day One is clear: Help resuscitate the pandemic-battered economy and make economic transformation the main engine to uplift the lives of the Filipino people," he added.
He said in just seven days of "rigorous and intense" plenary budget deliberations, the House approved "with expediency" the proposed PHP5.268-trillion "Agenda for Prosperity" 2023 national budget, the most important legislative proposal Congress tackles every year.
"With a deep sense of urgency, combined with the detailed scrutiny from our colleagues in the minority, and the tireless and unceasing cooperation of our fellow civil servants from various agencies in the Executive Department, we were able to hammer out in no time the best possible version for the approval on third reading of HB 4488, or the proposed spending plan for 2023," Romualdez said.
The House also ratified two bicameral conference committee reports on its last session day - the proposed Subscriber Identity Module (SIM) Registration Act and the postponement of the December 2022 barangay and Sangguniang Kabataan elections (BSKE) – that will soon be transmitted to Malacañang for the President's signature.
On top of the budget bill and the two bicameral conference committee reports, comparative data from the House committee on rules showed that the House of Representatives passed on third reading 37 national bills, a 106-percent increase over the 18 measures approved on final reading by the 18th Congress and 517 percent higher compared to six measures approved on third reading during the 17th Congress over the same period.
Romualdez said House members filed a greater number of measures totaling 5,696 during the period.
Of these, the House processed a total of 427 measures, 96 percent more than the 218 tackled by the 18th Congress and 104 percent higher than the 209 measures discussed during the 17th Congress.
The number of bills the House handled per session day averaged 19, versus 11 in the previous Congress, or an improvement of 70 percent, and 246 percent better than the five recorded during the 17th Congress.
Aside from the 37 measures approved on the third reading, the House also approved Wednesday an additional 11 bills on the second reading – for a total of 71 approved measures. The Chamber also adopted 21 resolutions and reported 63 committee reports in its first 23 session days.
Romualdez said these were all done with fewer calendar session days before the first adjournment, as compared to previous Congresses, which showed his colleagues' "clear passion and dedication to their constituents and their advocacies."
"Truly, each and every member of the 19th Congress exemplifies the fair and equitable response of the House of Representatives to the needs of the Filipino people, as we resonate with the clamor that in unity, there is strength. Let us continue to work hard, as we always do, for all the equally important pending measures that require our undivided attention," Romualdez said. (PNA)