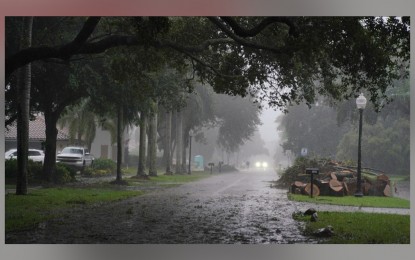 WASHINGTON – Hurricane Ian made landfall on Wednesday near Florida's southwestern Cayo Costa state park as an "extremely dangerous" Category 4 storm, the National Hurricane Center announced.
Ian is packing maximum sustained winds of 150 miles per hour (241 kph), down slightly from 155 mph (249 kph) winds recorded just hours earlier.
US authorities warned earlier on Wednesday that Ian is slated to bring mass devastation to parts of Florida as it barreled toward the southeastern state.
"I wish this wasn't a forecast that I had to deliver. I wish this wasn't a forecast that's about to come true," said National Weather Service (NWS) Director Ken Graham, warning Ian's effects will be devastating far beyond the coastal areas where the hurricane is expected to make landfall.
"This is going to be a storm we talk about for many years to come. It's a historic event," he added.
Storm surge resulting from the hurricane is expected to raise water levels 12 to 18 feet (3.7 to 5.5 meters) above ground level accompanied by "destructive" waves along the southwestern Florida coast.
Hurricane force winds are expected to reach "well inland," according to the National Weather Service, which further warned that heavy rainfall is expected across the Florida peninsula through Thursday.
Rains will continue through the US southeast through the weekend.
"Widespread, life-threatening catastrophic flooding is expected across portions of central FL (Florida) with considerable flooding in southern FL, northern FL, southeastern GA (Georgia) and coastal SC (South Carolina). Widespread, prolonged major river flooding expected across central FL," it wrote on Twitter. (Anadolu)