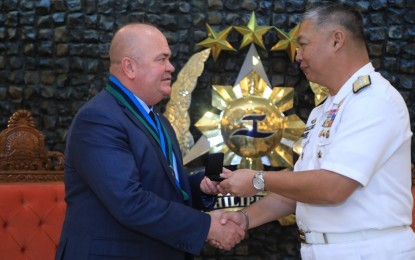 MANILA – The Philippines and Australia are looking at the possibility of further strengthening their partnership against terrorism.
AFP public affairs office chief Col. Jorry Baclor said Australia Ambassador for Counter Terrorism Roger Noble met with Armed Forces of the Philippines acting vice chief-of-staff Vice Admiral Rommel Anthony Reyes at the AFP headquarters at Camp Aguinaldo on Sept. 28.
"The two leaders also discussed cooperation in terms of best practice sharing, intelligence exchange, and counter-terrorism training to prepare for future challenges including the resurgence of threats with the normalization of foreign travel," he said Thursday.
During the meeting, Noble said the Philippines has some of the best practices in countering local terrorism which his government can learn from.
"Vice Admiral Reyes commented that the support of the government and the people helped the Armed Forces effectively address this concern. The enactment of laws served as a basis in dealing with local communist insurgency and terrorism," Baclor said.
Baclor said Reyes underscored the importance of identifying groups that fund terrorists in which the international community plays a vital role.
Both Noble and Reyes affirmed both countries' commitment to mutually beneficial engagements in counter-terrorism and disaster response. (PNA)