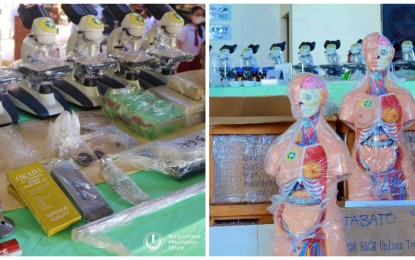 COTABATO CITY – Six public and private schools here were recipients of a laboratory apparatus package worth PHP600,000 from the Ministry of Science and Technology in the Bangsamoro Autonomous Region in Muslim Mindanao (MOST-BARMM).
In a statement Thursday, MOST Minister Aida Silongan said the donation is part of their flagship programs to assist students and teachers in the region, providing laboratory equipment and capacity building for the Science, Technology, Engineering, and Mathematics (STEM) program.
She identified the recipient schools as the Cotabato City National High School (CCNHS) Main Campus, the CCNHS Rojas-Site Campus, Cotabato State University-Laboratory High School, Coland System Technology, Inc., Shariff Kabunsuan College, and Dr. P. Ocampo College.
The laboratory equipment was distributed to the schools on Wednesday afternoon.

"This endeavor is a continuous effort to support educators and learners, especially those in the remote areas, with less equipment and capacity," Silongan said.
She said the donation is MOST's way of supporting the region's science education system which they hope would produce science and technology-savvy human resources that would help BARMM's socio-economic growth.
Aside from the six schools, Silongan said 24 other schools across the region will receive the same assistance from MOST-BARMM this year.
"We will be completing the turnover of laboratory apparatus, amounting to PHP3 million, to all the recipient schools," she said.
Cecilia Omar, CCNHS Rojas-Site principal, was thankful to MOST-BARMM for selecting her school as a recipient of the program.
"Indeed, BARMM's generosity that reached us has added to our confidence in addressing the learning loss brought about by the two-year health crisis," Omar said.
Silongan said schools under the BARMM's Special Geographic Area (SGA) in North Cotabato will likewise receive the same assistance.
The BARMM comprises the provinces of Maguindanao, Lanao del Sur, Sulu, Basilan, and Tawi-Tawi, the cities of Cotabato, Marawi, and Lamitan, and the 63 villages under the SGA in North Cotabato. (PNA)