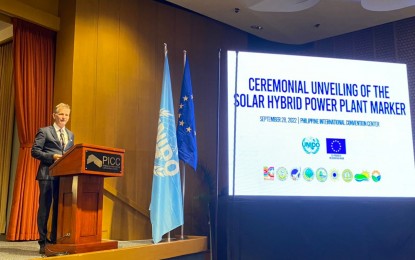 MANILA – A solar hybrid power plant, expected to provide 24/7 electricity to two municipalities in Mindanao, was launched this week, the European Union (EU) Delegation in Manila said Thursday.
The initiative is part of the Renewable Energy Technology for Seaweeds Value-Added (RETS) project between the EU, the Mindanao Development Authority, the United Nations Industrial Development Organization (UNIDO), and local stakeholders, and is set to benefit the island municipalities of Sibutu and Sitangkai in Tawi-Tawi.
"Supporting a seaweed value chain in a remote location in Tawi-Tawi by increasing the supply of renewable energy, strengthening the power grid, securing a steady water supply, and enhancing community services in health, education, nutrition, and sanitation, is not an easy feat. It is impressive," the EU Delegation to the Philippines' Head of Cooperation Christoph Wagner said at the launch in Pasay City on Sept. 28.
"The European Union is proud to have been part of the partnership that made it possible. This project embodies the EU's global commitment to fight climate change through environmentally sustainable development while leaving no one behind," he added.
Through renewable hybridization of the local grids, RETS has helped extend the supply of electricity services in Sibutu and Sitangkai, which are home to about 15,000 seaweed farmers.
The project, the EU said, would also integrate efforts to improve livelihoods by enhancing the quality and value of seaweeds produced by the communities.
"Coupled with solar home systems, this will help provide electricity to remote seaweed farming communities and power their livelihoods," it said.
RETS has a total investment of over PHP225.5 million, of which PHP168.5 million have been provided by the EU under its larger Access to Sustainable Energy Program.
"The EU Delegation has long been MinDA's partner for peace and development. We are grateful to have the same support from them in our pursuit of a balanced and sustainable energy mix for Mindanao, especially in the off-grid communities," MinDA Secretary Maria Belen Acosta said.
"When we provide more income-generating activities, we are also improving the households' ability to pay for the energy service, which contributes to the sustainability of the project," Acosta added. (PNA)