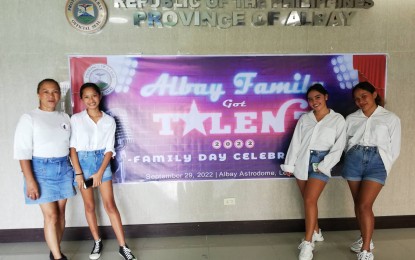 LEGAZPI CITY – To promote the importance of a strong family to nation-building, the provincial government of Albay, through its Provincial Social Welfare Development Office (PSWDO), on Thursday launched a family-oriented talent competition.
The competition dubbed "Albay Family got Talent" highlights the province's celebration of the 30th National Family Week (NFW), which is observed every fourth week of September.
Maria Vivien Cea, Albay PSWDO officer-in-charge, said it is the first time that the provincial government is holding such competition.
"At least 69 families or at least 300 individuals from the towns and cities of Albay were invited and attended the celebration that aims to showcase the contribution of the family as an integral part in community building," Cea said in an interview.
She said the invited families were categorized as disadvantaged, to include solo parents, those with persons with disability (PWD) as members, indigenous peoples, or Pantawid Pamilyang Pilipino Program (4Ps) beneficiaries.
"Through our office, we want to give programs and services that will strengthen every Albayano family. We believe that the family is the basic unit of our society, the stronger the family, the stronger the society we can have. With this activity, we want to highlight and showcase the talents of every family through singing and dancing," Cea said.
The families are competing to win the following prizes: 1st prize-PHP5,000; 2nd prize-PHP4,000; 3rd prize-PHP3,000; and consolation prizes of PHP2,000 each for all the non-winners.
Cea said each family who attended the event will also receive PHP1,000 as incentive.
Aside from the competition, other activities prepared for the occasion include the talk on "Padayon.. Kaya Ta an.." which tackles how to handle stress and family issues, fun games, and a photo booth, among others.
In his speech during the opening of the event, Vice Governor Grex Lagman thanked all who gathered for the activity.
"Thank you all, for participating in this very important event for every Albayano family," he said.
This annual event is pursuant to Presidential Proclamation No. 60 issued on Sept. 28, 1992, which aims to promote and strengthen family unity and relationship through meaningful celebration and promotion of Filipino values.
The NFW celebration this year carries the theme "Urbanisasyon at Pamilyang Pilipino: Magkaagapay sa Pagpapatibay at Pagpapaunlad ng Bansa", which is based on the theme of the International Day of Families (IDF) celebration, "Families and Urbanization" promoting sustainable urbanization. (PNA)