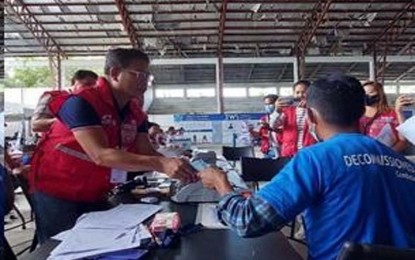 MANILA – The Department of Social Welfare and Development (DSWD) has distributed cash assistance to decommissioned combatants (DCs) in Sultan Kudarat province as Phase 3 of the Decommissioning Program for Moro Islamic Liberation Front (MILF)-Bangsamoro Islamic Armed Forces (BIAF) resumed on Sept. 22.
DSWD Undersecretary for Inclusive and Sustainable Peace Alan Tanjusay, joined by DSWD Assistant Secretary for Mindanao Affairs Arnel B. Garcia, and DSWD 12 Director Loreto Cabaya Jr., attended the payout activities of the socio-economic cash support to the DCs at the Assembly and Processing Area (APA) 5 in the Old Maguindanao Provincial Capitol on Tuesday.
Each beneficiary received outright cash aid worth PHP100,000 which comprises the Bangsamoro Transitory Family Support Package and Livelihood Settlement Grant.
"This money is a seed of new hope, a key to new opportunities and an investment to a new future for our MILF brothers and their families. I hope they find their way and succeed," Tanjusay said.
For the year 2022, about 5,500 targeted decommissioned combatants will undergo the program through the Independent Decommissioning Body.
The program's goal is to reintegrate decommissioned combatants into mainstream society by providing them with livelihood and other appropriate programs and services. (PNA)