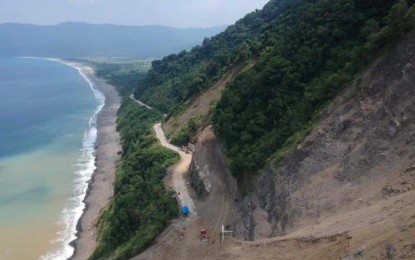 LAOAG CITY – The Department of Public Works and Highways (DPWH) is eyeing the construction of a rock shed on Manila North Road in Pagudpud town to prevent frequent landslides in the area.
"The rock shed project is being considered to prevent road closure of the Pancian, Pagudpud road every time there is moderate to heavy rainfall," Glenn Miguel, the district engineer of the Ilocos Norte First District Engineering Office, said on Thursday.
Every rainy season, road closures due to a series of landslides on the Pagudpud road that links Ilocos Norte to Cagayan and Apayao have hampered the mobility of people, goods, and services.
A rock shed is a concrete covering over a road in mountainous areas to protect the surface and vehicles from landslides or rockfalls.
The DPWH said the project has been discussed with Ilocos Norte First District Rep. Ferdinand Alexander Marcos for funding.
As of this posting, only one lane is passable to light vehicles along the Manila North Road, Kilometer 578+800 in Sitio Banquero, Barangay Pancian, Pagudpud town.
For three weeks now since a severe landslide, clearing teams of the DPWH Ilocos and Cagayan Regions have been clearing both sides of the national highway of fallen debris, rock, and soil in the area. (PNA)