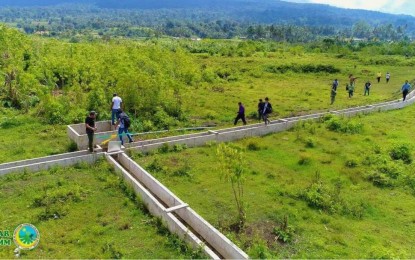 MANILA – A party-list lawmaker urged the Department of Agriculture (DA) and the National Irrigation Administration (NIA) to repair and rehabilitate irrigation systems that are non-operational to ease the burden on farmers and increase their production and income.
During his interpellation on the 2023 proposed budget of DA Wednesday night, AGRI Rep. Wilbert Lee pointed out the urgency of the situation and that NIA should address this matter at once.
This, after he realized how the farmers have been deprived of better irrigation services despite billions of funds given to the agency in the last few years.
"As I go around the country, there are a lot of complaints that farmers convey to me about irrigation systems that have not been used since these have been built and turned over," Lee said in Filipino.
Instead of building new irrigation systems, Lee said funds should be used to repair and rehabilitate the unused ones to immediately help the farmers.
Lee cited several irrigation systems in Oas, Albay and Libmanan, Camarines Sur which were brought to his attention by affected farmers who consider these dysfunctional projects as "wastes of taxpayer's money."
In the case of Oas, Albay, farmers complained about the irrigation system in Brgy. Talongog which has been unused since its turnover in 2017.
Meanwhile, the MADABAST Agri Coop expressed its dissatisfaction with several irrigation systems, like the one in Barangay San Pablo, Libmanan, Camarines Sur, which has had no benefit at all since its construction eight years ago.
These complaints were personally given and forwarded by Lee to NIA chief Benny Antiporda and were raised by the former during his interpellation on the proposed DA budget.
"As reported to me, the number of dismal projects and the amounts affected are staggering. I hope that under NIA's new administrator, we will no longer see these inefficiencies," Lee said.
"We cannot achieve the lofty goals of the President for the agriculture sector if we cannot provide irrigation services to our farmers," he added.
NIA is an attached agency of the DA, which is headed by President Ferdinand "Bongbong" Marcos Jr. in a concurrent capacity.
"Funds allocated for irrigation should flow towards delivering benefits to farmers and prosperity to agriculture. Farmer's success is consumer's success; we are all winners," Lee said. (PNA)