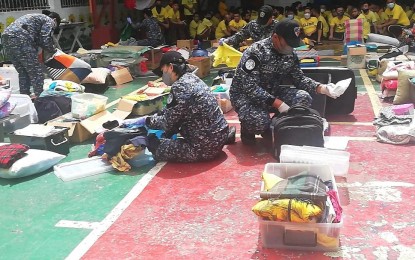 BAGUIO CITY – All personnel of the Baguio City Jail Male Dormitory (BCJMD) and 61 persons deprived of liberty (PDL) under its care have tested negative of illegal drug use.
In a message Thursday, BCJMD warden, Supt. Mary Ann Ollaging Tresmanio, bared the result of the surprise random drug testing conducted on Sept. 27 by the Baguio General Hospital and Medical Center-Outpatient Drug Testing Rehabilitation Center (BGHMC-ODTR) on the sidelines of the joint inspection by the Philippine Drug Enforcement Agency and the Drug Enforcement Group-Cordillera of the Philippine National Police.
The inspection and drug testing are part of the process of the renewal of the drug-free facility certificate of the BCJMD.
Tresmanio said its personnel and PDLs have to be negative for illegal drugs in the inspection and drug test for three consecutive times to be able to get the certification.
The certification process requires that three joint inspections and drug tests will be done. The recent inspection and tests was the BCJMD's second after the first schedule in June 2022.
The facility was first issued its drug-free certificate in 2019.
Aside from making the jail facilities drug-free, Tresmanio said the Bureau of Jail Management and Penology (BJMP) aims to enable the inmates, especially those jailed for violation of the anti-illegal drugs law, be reformed and shun illegal drugs even after they are released from incarceration or when their cases are dismissed.
"We are serious with what we do that is why we have the Katatagan, Kalusugan at Damayan sa Komunidad (KKDK) which is a drug dependency counseling program developed by the Psychological Association of the Philippines," she said.
Based on the concept paper, the KKDK intended for people with drug abuse problems is composed of 24 modules, with 18 of them facilitated by the PDLs divided into small groups and six done with family members of the PDLs.
The PDLs under the program are given an out-patient drug treatment rehabilitation program and aftercare facilitated by the BGHMC-ODTR, in addition to in-jail activities.
"Aside from the BJMP wanting to help our personnel, I am also serious in wanting to help those with additional problems so that if they are given the second chance to return to the community, they can survive and not return to the usual activity that will make them go back to the jail," Tresmanio said. (PNA)