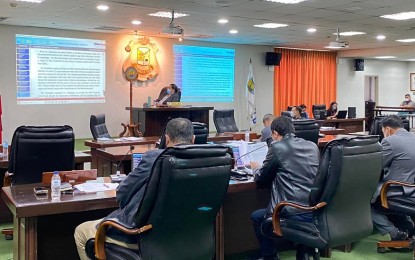 ILOILO CITY – The Sangguniang Panlalawigan (SP) through a resolution has called on Governor Arthur Defensor Jr. to dialogue with the Sugar Regulatory Administration (SRA) and all sugar stakeholders in Iloilo to have a good picture of the industry in the province.
The call was made as a result of an earlier resolution proposed by Board Member Matt Palabrica enjoining the governor and concerned government agencies for a comprehensive inspection and inventory of warehouses that was subjected to a hearing by the SP committee on economic affairs and investments.
"The result of the committee hearing showed that we have no enough data to establish anything at the moment. Even the so-called shortage that manifests in the prices, we do not have empirical data because the SRA has not provided us any kind of information regarding supply, demand, consumption, importation," said Board Member Jason Gonzales who conducted the hearing, in an interview on Thursday.
He added that the proposed physical inspection of warehouses to determine if there was hoarding was not pushed through because it could not be established without baseline data.
The concern could not be addressed at the level of the SRA or trader level instead there is a need to understand the value chain of sugar at the provincial level.
"There is as need first for a dialogue to be initiated by the governor. And second, we issued a resolution requesting for a complete data when it comes to demand, production, even importation through Malacañang, Senate and SRA national," he said.
However, since the SP has no subpoena power, then it could not demand the SRA to comply.
The legislative body can just encourage the governor to pursue the proposed action.

Gonzales said the outcome of the two resolutions that they passed during their regular session on Tuesday would again be the subject of another positive legislative action.
One is a possible ordinance to mandate the registration not just of traders but other large actors of the sugar value chain to have a picture of the movement of the commodity including its stocking and pricing in Iloilo.
"That is the possible ordinance that we will be formulating as a result of the dialogue and the data that we will have," he said. (PNA)