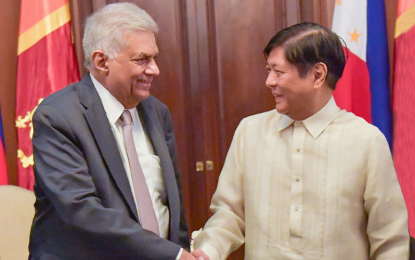 MANILA – President Ferdinand "Bongbong" Marcos Jr. and Sri Lankan President Ranil Wickremesinghe on Thursday agreed to bolster the Philippines and Sri Lanka's bilateral relations.
The commitment was made during their bilateral meeting at Malacañan Palace in Manila on Thursday morning.
The two heads of state sought "new approaches" to further improve the two nations' ties, according to a statement uploaded on the official website of Sri Lanka's President's Media Division (PMD).
"Following their friendly conversation, the two leaders commenced their bilateral discussions. During this discussion, greater emphasis was placed on further strengthening the longstanding bilateral relations between Sri Lanka and the Philippines through new approaches," the PMD said.
Marcos said he discussed with Wickremesinghe the holding of this year's Association of Southeast Asian Nations (Asean) Summit and Related Summits, as well as the possible creation of a monitoring and regulatory body in charge of the Regional Comprehensive Economic Partnership (RCEP).
"In today's courtesy call with Sri Lankan President Ranil Wickremesinghe, we discussed the upcoming Asean conference and explored the possibility of having a monitoring and regulatory body to administer the Regional Comprehensive Economic Partnership (RCEP). We both believe this will be beneficial to all Asean members," Marcos said in a Facebook post.
The 40th and 41st Asean Summit and Related Summits will be held in November this year.
Meanwhile, RCEP is the world's largest free trade agreement (FTA) that provides simplicity in trade relations with its uniform terms and conditions among Asean member-states Brunei, Cambodia, Indonesia, Laos, Malaysia, Myanmar, the Philippines, Singapore, Thailand, and Vietnam and their FTA partners China, Japan, India, South Korea, Australia, and New Zealand.
RCEP also provides dispute settlement mechanisms like the choice of forum, consultation provisions, mediation provisions, and establishment of a panel which allows interested third parties to participate in disputes, with their views considered during the panel process.
The two leaders met at Malacañan Palace before they graced the annual meeting of the Asian Development Bank's (ADB) Board of Governors at the Edsa Shangri-la Hotel in Mandaluyong City.
Wickremesinghe also signed the guestbook during his courtesy call at Malacañan Palace, President Marcos shared on his official Facebook page.
Wickremesinghe, the PMD said, emphasized that the "long-standing" friendship between Sri Lanka and the Philippines would be promoted by developing Asian regional cooperation.
Wickremesinghe arrived in Manila on Wednesday evening to chair the 55th meeting of ADB governors.
Marcos, in a keynote speech delivered during the ADB event, called for closer collaboration to realize a "greener [and] more resilient future that is progressive and that is inclusive."
He also guaranteed that his administration is committed to ensuring the efficient and effective utilization of ADB's assistance for the full benefit of all Filipinos.
"While many things remain uncertain, one thing is for sure: We can no longer return to the way things were," Marcos said.
"It is time for us to work together to bring about an even Better Normal. I believe that at the heart of this goal is in the way that we must develop an economy that is green, that is sustainable, truly climate-resilient and responsive to people's immediate needs," he added. (PNA)