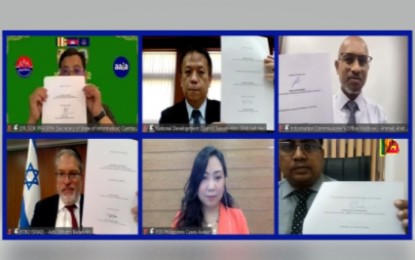 MANILA – The Freedom of Information (FOI) Philippines has signed the Joint Declaration of Cooperation of the Asian Access to Information Alliance (AAIA) as one of its co-founding members on Wednesday via an online closed session.
AAIA is a multi-state partnership founded on the principles of solidarity, knowledge exchange, and strategic cooperation, and is composed of government bodies implementing comprehensive access to information (ATI) programs, policies, frameworks, and best practices.
Access to information commissioners, ombudspersons, and country representatives from the Kingdom of Cambodia, the State of Israel, the Republic of China (Taiwan), the Republic of Maldives, and the Democratic Socialist Republic of Sri Lanka also signed the Joint Declaration of Cooperation as co-founding members, hence formally establishing the AAIA.
"The ceremonial signing of the Alliance's Joint Declaration of Cooperation serves as a monumental milestone to our continuous work of upholding the right of our countrymen to access public information and keeping alive our democracies," said FOI Program Director Krizia Casey Avejar.
The formation and operation of AAIA are expected to have a positive impact on the FOI culture and implementation in Asia.
"In truth, a long road is ahead of us in our goal to institutionalize the right to information in every corner of Asia, but we have taken an important step in this journey. With the establishment of AAIA, it is our hope that the Alliance would be a beacon for this great endeavor," said Philippine Information Agency (PIA) Director-General and FOI Champion Ramon Cualoping III.
The establishment of the said Alliance was spearheaded by FOI Philippines through its ad hoc AAIA secretariat. Its efforts began early this year, with the rollout of online conventions, exploratory meetings, and in-person consultations with various Asian countries.
The FOI Philippines is the designated lead agency to implement Executive Order No. 2, series of 2016 - the policy instrument that operationalizes the people's Constitutional right to information in the Executive branch.
This landmark achievement for the advancement of information access in the Asian region transpired concurrently with this year's International Day for Universal Access to Information (IDUAI). IDUAI is celebrated on the 28th of September annually to underline the importance of access to information as a fundamental human right. (PR)