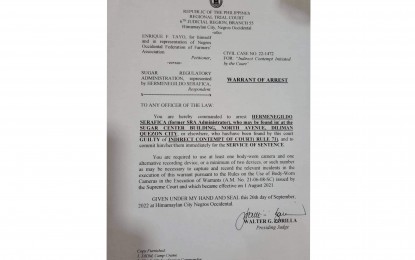 BACOLOD CITY – A leader of a farmers' group in Negros Occidental welcomed the decision of the Regional Trial Court (RTC) in Himamaylan City which found former Sugar Regulatory Administration (SRA) chief Hermenegildo Serafica guilty of indirect contempt, sentencing him to a 15-day jail term.
"If that is the order of the court, he should answer and abide by it," petitioner Enrique Tayo, chairman of Negros Occidental Federation of Farmers Association, told the Philippine News Agency (PNA) on Thursday.
In a decision dated Sept. 26, RTC Branch 55 Judge Walter Zorilla also fined Serafica PHP30,000 for issuing a memorandum, allowing the import of refined sugar after a court order prohibited it.
Tayo filed a civil case for indirect contempt against Serafica, who issued Memorandum Circular 11 on May 2, stating that SRA is processing applications from Luzon, Visayas, and Mindanao traders, except Western Visayas, to import 200,000 metric tons of standard grade refined sugar and bottler's grade refined sugar.
His move came after an injunction was issued by the court against Sugar Order No. 3 for the importation of 200,000 metric tons of refined sugar for industrial users.
"It should serve as a precedent to others, that no SRA administrator would follow what he did and act without any regard to small sugarcane planters, especially the agrarian reform beneficiaries," Tayo added.
Serafica's successor, SRA Acting Administrator David John Thaddeus Alba, was an intervenor in the case when he was still the general manager of the Asociacion de Agricultores de La Carlota y Pontevedra Inc. and La Carlota Mill District Multi-Purpose Cooperative based in La Carlota City.
In Sagay City, RTC Branch 73 Executive Judge Reginald Fuentebella had also issued a preliminary injunction on SO 3.
"Maintain the status quo to be effective until the termination of this case unless earlier lifted," the court order read. (PNA)