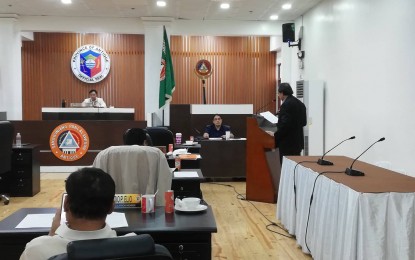 SAN JOSE DE BUENAVISTA, Antique – The Antique provincial board is pushing to increase to PHP4 million the allocation of the provincial government for the processing of blood supply by the Philippine Red Cross (PRC) for indigent patients.
On Thursday, the provincial board in its regular session passed a resolution, sponsored by Board Member Victor Condez, requesting an increase in allocation in 2023 since the current fund of PHP2 million is insufficient.
"Whereas, the PRC being the world's largest humanitarian network that aids in preventing suffering by strengthening humanitarian principles, does need funding from other institutions, be it private or the government primarily to utilize in the blood procurement," it read.
Conde said lately, more patients in local hospitals require blood and at times the PRC Antique could not meet the needs.
He said the increase in the fund allocation has been requested by the PRC considering that the PHP2 million given to them for this year has been exhausted.
PRC Antique Chapter chief Ma. Patricia Isabel Florida said the PHP2 million allocation from the provincial government has been used up as of August or after barely eight months.
"There were several requests for blood from the provincial government to be given to the indigent patients that's why the amount was not enough to cover the entire year, "she said.
Other patients are also being referred by the PRC to their local government units (LGUs) where they could request financial assistance.
Most whole donated blood is processed into transfusable components: red cells, platelets, and plasma. The processing costs PHP1,800.
Most of the blood being requested are for patients needing dialysis, victims of vehicular accidents, and for dengue with an average of 200 units monthly. (PNA)