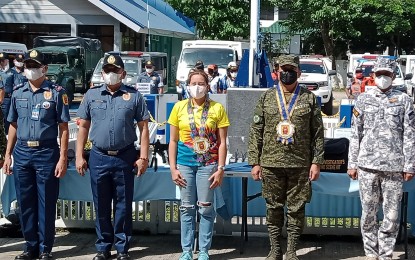 BACOLOD CITY – An initial 1,165 troops from the Philippine National Police (PNP) and other law enforcement agencies will be deployed to secure the 43rd Masskara Festival, which kicks off with a midnight countdown on Friday at the Bacolod City Government Center grounds.
In a send-off ceremony held at the Bacolod City Police Office (BCPO) headquarters on Thursday afternoon, Col. Thomas Joseph Martir, police city director, presented the troops and resources to festival director Pinky Mirano-Ocampo, after which the blessing was led by inter-faith leaders.
"We will deploy the first batch of 300 personnel by Oct. 1 for the first week, where there will be only sports activities," Martir said.
Aside from the contingent from BCPO, personnel from the Police Regional Office-Western Visayas will also augment security for the festival that will run until Oct. 23.
Police personnel will be joined by teams from various PNP support units such as the Philippine Army, the Philippine Coast Guard, the Bureau of Fire Protection, force multipliers, and disaster response units.
Martir assured Bacolodnons that the deployed forces would be ready to secure the revelers during the entire festival.
"We will double our efforts. We will double security during the highlights," he added.
The BCPO chief also said they would ensure police visibility, especially in the main events of the Masskara Festival.
In her message, Mirano-Ocampo lauded the security forces for taking on the challenge and responsibility of maintaining peace and order for the three-week festival.
She said the success of the celebration lies in their hands for security ensures stability and a peaceful community.
"As we enjoy the beautiful arts, the music, the food, the concerts and many others, we also need to keep our city from any form of danger and threats. Your presence everywhere ensures our tourists, residents, visitors and guests their safety such that they can enjoy the festival in full throttle and without fear or hesitation," she added.
The Masskara Festival 2022 sites include the Government Center, Bacolod Public Plaza, Baywalk at the Reclamation Area, Megaworld's The Upper East, Lacson Strip, SMX Convention Center, Paglaum Stadium, Panaad Park and Stadium, and the University of St. La Salle Coliseum. (PNA)