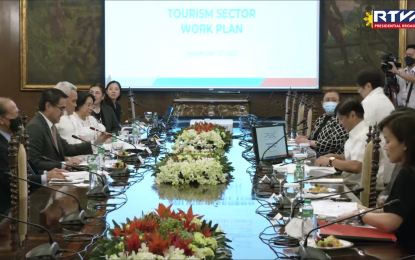 MANILA – President Ferdinand "Bongbong" Marcos Jr. on Thursday met with the Private Sector Advisory Council (PSAC) to discuss ways to boost Philippine tourism.
The tourism sector work plan was the agenda of Marcos' meeting with PSAC, based on a short video clip uploaded on the official Facebook page of state-run Radio Television Malacañang (RTVM).
"President Ferdinand R. Marcos Jr. convenes the Private Sector Advisory Council (PSAC) Tourism Sector Group in a meeting at the Aguinaldo State Dining Room in Malacañan Palace on September 29, 2022," RTVM said in a Facebook post.
Malacañang, however, has yet to provide specifics about the plans to enhance the competitiveness of the country's tourism industry.
The meeting was attended by PSAC Tourism Sector Group, including Frederick Go (Robinsons Land Corporation), Roberto Claudio Sr. (Philippine Retailers Association), Rene Limcaoco (Hertz Philippines), Mary Geraldine Polanco-Onganon (Aboitiz Equity Ventures, Inc.), Ginggay Hontiveros-Malvar (Aboitiz Equity Ventures, Inc.), and Leslie Vanessa Lim (Robinsons Land Corporation), RTVM said.
RTVM added that PSAC lead convenor Sabin Aboitiz (Aboitiz Group) and member Joji Gotianum Yap (Filinvest Development Corporation) also joined the meeting through virtual participation.
Presidential Management Staff Secretary Ma. Zenaida Angping and several officials from the Department of Tourism (DOT) and Department of Foreign Affairs (DFA) also participated in the meeting.
In his first State of the Nation Address delivered on July 25, Marcos said his administration will push for the construction of more international airports and road improvements to attract more visitors and fast-track tourism's recovery amid the prevailing coronavirus disease 2019 (Covid-19) pandemic.
Marcos made the vow, as he acknowledged the importance of tourism sector as an economic development tool and a job-generating industry that benefits the grassroots level.
The tourism industry employed at least 4.9 million individuals in 2021, higher than the 4.7 million registered in 2020, according to the Philippine Statistics Authority data released on June 28.
With borders virtually closed for the entire 2021, the country in 2021 only recorded a total of 163,879 foreign visitors. This is 89 percent down from the 2020 arrivals of 1,482,535. (PNA)