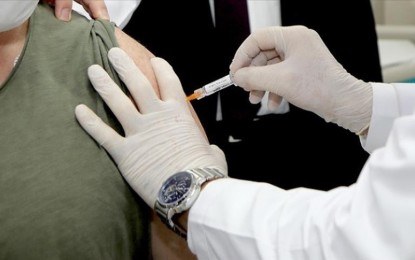 TORONTO – A total of 299 military personnel in Canada who refused to get vaccinated against Covid-19 have been expelled nearly a year after a mandatory vaccination policy was implemented for the Canadian Armed Forces, Canadian broadcaster CTV News reported Wednesday.
According to CTV News, a mandate unveiled in October 2021 by the government of Prime Minister Justin Trudeau requiring employees in federal institutions to receive two doses of the Covid-19 vaccine included military personnel.
The decision was suspended in June of this year, although armed forces personnel were exempted from it.
In addition to the 299 military personnel, 108 Regular Forces members requested to leave voluntarily as of Sept. 13 this year, citing the mandatory vaccination policy as the main reason, the report said.
Meanwhile, it was noted that federal public employees who are anti-vaccine and used their leave rights after the government's decision to require vaccination started to return to their duties as of June when the decision was suspended.
The Canadian Ministry of National Defense announced that the two-dose Covid-19 vaccine requirement will continue for military and civilian personnel serving in the armed forces.
Vaccination efforts initiated in Canada were rejected by some people in the country and also led to mass protests. However, 82 percent of the country's population received two doses of the Covid-19 vaccine.
Meanwhile, Covid-19 procedures for passengers who enter the country by land, sea, and air will be removed as of Oct. 1, 2022.
Health Minister Jean-Yves Duclos announced that rules such as two-dose vaccination certificates at border crossings, mandatory use of the ArriveCAN application, and the mask requirement on planes and trains will expire on Oct. 1.
With the decision, the obligation for those entering Canada to undergo Covid testing and quarantine before arrival or at the destination has also been terminated. (Anadolu)