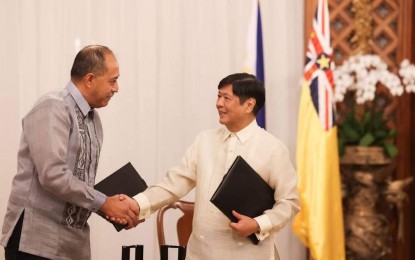 MANILA – Niue, a self-governing island state in the Pacific, was added to the Philippines' long list of foreign partners this week, opening up opportunities for trade and investment and cooperation on pressing issues such as climate change.
As one of the closest neighbors within Southeast Asia, the Department of Foreign Affairs (DFA) said Manila is in a position to become Niue's possible source of goods and services.
"The Philippines and Niue can explore ways to increase cooperation in the areas of trade and investment, including agriculture and fisheries. As the Philippines is one of the most proximate to Niue within the Asean (Association of Southeast Asian Nations) region and in Asia, Niue may look to the Philippines as a possible source of finished goods and products," DFA spokesperson Ma. Teresita Daza said in a statement Thursday night.
Daza also sees potential cooperation in the area of medical care and tourism, adding that Manila is ready to share experiences and knowledge as a way to foster general goodwill with Pacific Island countries.
Addressing climate change and promoting a rules-based maritime regime are also seen as areas of interest the two nations could focus on in the long run.
Daza said both countries could work together and champion sustainable fisheries, gender advocacy and development, and preservation of culture and traditional knowledge in regional and multilateral fora.
"The Philippines' intent to establish diplomatic relations with Niue has been guided by the principle of friendship towards all countries, and by a forward-looking policy that broadens Philippine engagement with new partners. It is envisioned to foster general goodwill, by being one of the few countries with which Niue has official diplomatic ties," she said.
President Ferdinand Marcos Jr. and Niue Prime Minister Dalton Emani Makamau Tagelagi signed the joint communiqué on Sept. 28, formally establishing diplomatic relations between the two countries.
The communiqué expresses the "desire of both countries to develop friendly relations and cooperation based on the principles of mutual respect for sovereignty and territorial integrity, non-aggression, non-interference in each other's internal affairs, equality and mutual benefit, and peaceful coexistence."
Both countries also agreed to exchange representatives as soon as practicable, the Niue government said.
As of December 2021, there are 31 Filipinos in Niue working as professionals, sales workers, community and personal service workers, machinery operators and drivers, as well as technicians and trade workers.
The DFA said there are no recorded Niueans living in the Philippines but in 2020, the Department of Tourism recorded two Niuean tourists.
There have been proposals to establish diplomatic relations between the Philippines and Niue as early as 2013.
Negotiations on a draft joint communiqué, however, only started in January 2022 after the Office of the President gave its imprimatur to the Department on December 27, 2021.
Even before the formal establishment of diplomatic ties, Manila has been engaging with Niue as a dialogue partner of the Pacific Islands Forum (PIF).
The PIF is an intergovernmental organization that aims to enhance cooperation among countries and territories in the South Pacific.
Niue, with a size of approximately 261 square kilometers and a population of a little over 1,500, is one of the world's smallest counties. It is located in the middle of the South Pacific within a triangle boundary of Tonga, Samoan, and the Cook Islands and has Alofi as its capital.
Niue is about 2,400 km. from New Zealand and 8,280 km. from the Philippines. (PNA)