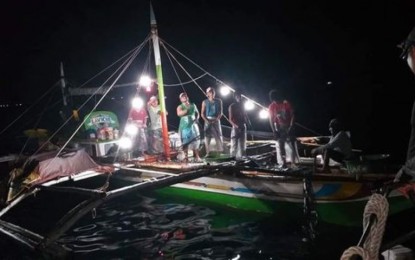 CALBIGA, Samar – The only sardines processor in Northern Samar province has expressed concern over the smaller size of sardines caught in the San Bernardino Strait in recent years.
It was in 2013 when locals started to notice that their catch can now fit into a small can or bottle, unlike before when they had to cut the sardine into two.
"There is really a decline in sardine size and volume. One indicator is the smaller size of catch by our local fishers," said Martha Cadano, a manager of Kenn Matthew bottled sardines brand based in Irinas village in Victoria town, Northern Samar on Friday.
The small-scale business has been producing an average of 500 bottled sardines monthly, employing 50 workers and sardines catchers. Their produce is being marketed in the province.
It has been the practice of local fishers to sell their catch in nearby Sorsogon province in the absence of cold storage facilities and canning factories in the province, according to Cadano.
"Since there are no storage facilities, our group has to process our own catch within few hours and distribute the excess harvest to the community for free," she added.
Sardines is one of the 10 major fishery species in Northern Samar.
The Philippine Statistics Authority recorded that in the 4th quarter of 2021, local fishers caught 377.1 metric tons of sardines in San Bernardino Strait, the seawater that separates Samar Island from Luzon.
Although sardines are a major fishery product in Samar, most of the catch is transported to Sorsogon and not officially recorded as yield in Northern Samar.
"We don't get enough support to build post-harvest facilities since our actual production is not recorded in the region. Almost all are sold to traders in Sorsogon," said BFAR Eastern Visayas Assistant Regional Director Cylet Lluz in an interview with the Philippine News Agency.
Addressing the concern of the sardines industry was tackled in a meeting held here on Friday of the Fishery Management Area 7, a body tasked to formulate policies for some sea waters Bicol Region and some parts of Samar.
Non-government organization Oceana said the deterioration of sardines stocks in Northern Samar is attributed to overfishing, harmful fishing practices, and weak implementation of National Sardines Management Plan (NSMP).
A study by Oceana, which monitored the movement of sardine stock in the waters off Bulan, Sorsogon, and Samar Sea found an exploitation rate of sardines in the area of 0.8 which meant the stock was already overexploited.
PSA data shows that the catch of sardine species significantly declined from 442,045.75 metric tons in 2010 to 325,226.20 metric tons or 26.4 percent in 2019.
Approved on May 15, 2020, the NSMP provides the goals, benchmarks, indicators, and recommendations aimed at achieving sustainability of the sardine fishing industry by 2025.
But up until now, the fishery management areas in the country have yet to fully adopt the plan, according to Oceana.
Local government units and fishermen appealed for support in stronger enforcement of fisheries regulations to protect their municipal waters and to ensure that their fisheries resources continue to reproduce and grow abundantly. (PNA)