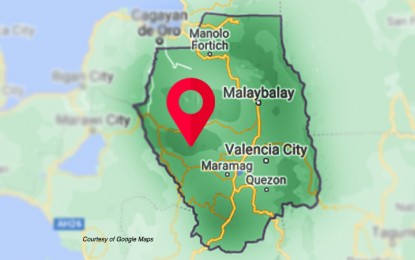 MANILA – Members of the Manobo-Pulangiyon tribe of Bukidnon on Friday denied being part of the communist movement and appealed to President Ferdinand "Bongbong" Marcos Jr. for help in protecting their ancestral domain.
"Hindi po kami miyembro ng NPA (New People's Army). Wala pong red-tagging (We are not members of the NPA. There's no red-tagging," Datu Rolando Anglao, tribal leader of Manobo-Pulangiyon in Quezon, Bukidnon, said at a press conference.
Anglao cited the shooting on April 19, 2022 that wounded several members of the indigenous peoples (IPs) group over a land dispute on the ancestral land of the Manobo-Pulangiyon, a property consisting of some 1,000 hectares and several key landmarks, including the Salagapon Falls, Banban, and the Karikayanan.
The properties have allegedly been in the hands of private owners since the 1920s when Don Manolo Fortich "borrowed" the land from them through a verbal agreement he made with the tribal leaders at the time.
Fortich allegedly transformed their land into a cattle ranch, put up a fence to keep the tribe out, and hired a private army to watch its perimeter.
Members of the Manobo-Pulangiyon tribe have since failed to gain access to their land.
In 1996, the property was leased out again to Kiantig Development Corporation (KDC), formerly known as Cesar Fortich Incorporated through the awarding of Forest Land Graze Management Agreement (FLGMA) 122, a product-sharing agreement with the government to develop, manage, and utilize grazing lands.
FLGMA 122 expired in 2018.
"Nakaanim na dialogo na po kami since 2018, pero di pa rin po kami nakakapasok sa aming minanang lupain (Since 2018, we have had six dialogues, but our community has not been able to regain access to our ancestral domain)," Anglao said.
"Amin lang pong hinihiling ang nararapat sa amin na kinikilala ng NCIP nang kanilang ipagkaloob sa amin ang aming certificate of ancestral domain claim (We are only demanding for what is rightfully ours, as recognized by the National Commission on Indigenous Peoples when they granted us our certificate of ancestral domain claim) recognizing that we have rights over the land," he added.
According to the tribal leader, they will still have one more hearing with the NCIP so that the certificate of ancestral domain title will be awarded to them.
"We have been working with the DENR (Department of Environment and Natural Resources), NCIP, and even asked for protection from the AFP's (Armed Forces of the Philippines) 88th IB (Infantry Battalion)," Anglao said. (PNA)