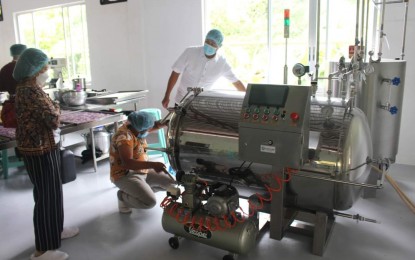 TACLOBAN CITY – The local government-run Root crops Processing Center in Baybay City in Leyte will expand its operation to include the processing of baby food from sweet potatoes, the Department of Science and Technology (DOST) announced on Friday.
From producing sweet potato ice cream and chips, the processing center will venture into the application of complementary food technologies, DOST Leyte provincial head John Glenn Ocaña said in a phone interview.
"The decision to produce camote-based baby foods came about to provide another nutritious complementary food product for children six months old up to three years old," Ocaña said.
DOST Leyte will enroll the new venture of the processing center under the Shop Floor Research and Development Program led by the DOST Regional Standards and Testing Laboratory.
"By producing more products out of camote which will result to more farmers getting involved with ensuring the sustained supply of raw materials," Ocaña added.
The processing center in Cogon village opened in late 2020 with technology and equipment provided by the DOST.
The DOST has no available data on the production of root crops processing center.
The city government has also been producing complementary foods using rice, sesame, and mongo through the DOST-Food and Nutrition Research Institute (FNRI) project where the local government was provided all the essential equipment and technology transfer.
FNRI said sweet potato or more popularly known as camote, is an excellent source of energy and nutrients for the family.
It is rich in beta-carotene, vitamin B6, manganese, and potassium. (PNA)