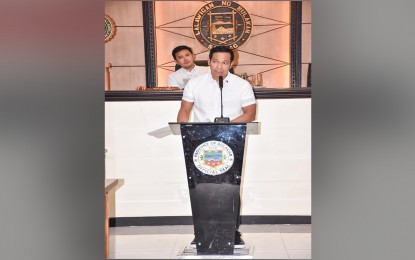 CITY OF MALOLOS, Bulacan – Governor Daniel R. Fernando on Friday warned the contractors of the damaged rubber bladder of the Angat Afterbay Regulation Dam or Bustos Dam to act now or face civil and criminal cases.
This is after the contractors, ITP Construction, Inc. and Guangxi Hydroelectric Construction Bureau Co. Ltd., failed to repair the damaged rubber bladder at the Bay 5 of Bustos Dam which happened only a year after its rehabilitation and while the contract is still under warranty.
Fernando said he gave the contractors 10 days to act on his demand letter sent on Sept. 29.
"We must act now. We demand the immediate removal and replacement of all six gates under the contract for Bustos Dam. Kapag hindi (If not), I will not hesitate to file civil and criminal cases sa lahat ng kasangkot sa usaping ito (to all those involved)," the governor said in a social media post on Friday.
Fernando also asked members of the Sangguniang Panlalawigan (SP), in his privilege speech during the SP session Thursday afternoon, to probe the issue.
The governor said the contractors have been ignoring the countless follow-ups and demand letters sent by the National Irrigation Administration (NIA), in close coordination with the provincial government.
He also called on NIA to take responsibility for the delay in the repair of the damaged rubber gate which could impact 15,706 hectares of rice and vegetable areas with 12,904 farmers with an estimated loss of PHP880.96 million to PHP2.69 billion to the agriculture sector once it collapsed.
In June 2020, the rubber gate at Bay 5 of Bustos Dam collapsed allegedly due to the inferior quality of materials used by the contractor in the rehabilitation of the dam.
In 2017, the rubber gate in Bay 3 was also replaced when it gave way, due to the reported low quality of materials, after it was hit by a barge.
Bustos Dam was built in 1926 with a service area of 25,000 hectares. (PNA)