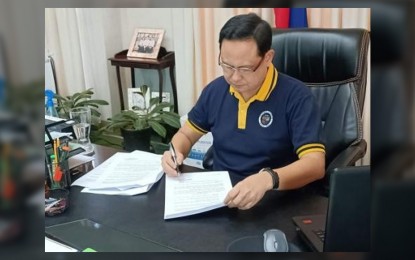 ILOILO CITY – The provincial government here will be pursuing projects related to sustainable energy as mandated in the Iloilo Provincial Ordinance for Renewable Energy Ordinance of 2022 (I-PORE 2022).
"The national government together with DOE (Department of Energy) has a renewable energy program that we implement, but good that we have an ordinance because right now we have to set a budget for that. It is already in our annual investment plan for 2023 and we are set to put a budget on that," said Iloilo Governor Arthur Defensor Jr. in an interview on Friday.
Defensor said one of the most viable projects to pursue would be the micro-hydroelectric turbines in the elevated portion of the province where rivers are located.
"We want to pursue mini-hydroelectric turbines that we will put in our mountain barangays because that is really viable for us and we have tried that before," Defensor added.
The province, he said, has been implementing renewable projects such as the installation of the solar photovoltaic system for critical laboratory facilities of the Iloilo Provincial Hospital.
Solar streetlights are also being installed in barangays. "Solar is common to everybody," Defensor said.
Two weeks ago, he signed an executive order creating a committee to look into the implementation of renewable energy-related plans and projects.
I-PORE was passed by the Sangguniang Panlalawigan in early September, making Iloilo the first province to pass an ordinance on renewable energy.
The ordinance mandates the establishment of infrastructure and mechanisms for renewable energy, encourages barangays, municipalities, and cities to identify and allocate possible sites for investments, and provides incentives according to the Provincial Investment Code.
It also provides an appropriation of half of one percent of the annual budget of the province. (PNA)