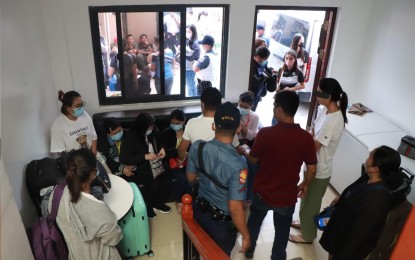 MANILA – A total of 29 foreigners who purportedly became victims of human trafficking were rescued in Parañaque City, the Philippine National Police (PNP) reported on Friday.
In a statement, PNP chief Gen. Rodolfo Azurin Jr. said 23 Myanmar nationals and six Chinese nationals were rescued by the police and social workers in an operation in Barangay Tambo at around 5 p.m. Thursday.
Investigation revealed that the victims are all Philippine Offshore Gaming Operators (POGO) employees of the MOA Cloud Zone Corporation located at the NexGen Tower along C-4 Road, Epifanio de los Santos Avenue (EDSA) Extension in Pasay City.
The rescue operation stemmed from the referral of the Anti-Kidnapping Group (AKG) after two Myanmar nationals were turned over to them by lawyer Mark Ronquillo of Brickhartz Technology Incorporated on Sept. 22.
On Sept. 27, the case and the two Myanmar victims (one male and one female) were referred by the AKG to the PNP's Women and Children Protection Center (WCPC) for further investigation.
The two victims also informed the investigators that a relative and other Myanmar nationals were left in the same company and are still being forced and exploited to work as online scammers, which resulted in the rescue operation.
The victims were recruited by a certain Chue Tiri Ngone a.k.a. "Christine", a Myanmar national.
The victims are now under the custody of the WCPC and will be subjected to a medical examination and antigen testing prior to their transfer to a government shelter. (PNA)