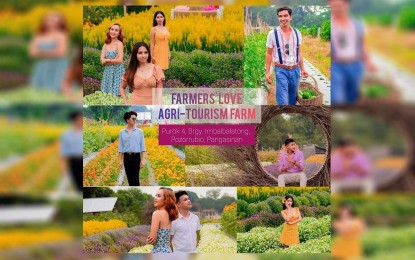 POZORRUBIO, Pangasinan – Tourists to Pangasinan will have a new place to visit with the opening of a one-hectare Farmers' Love Agri-Tourism Farm that offers a variety of colorful flowers in Barangay Imbalbalatong here starting Oct. 1.
"Nothing brightens your day quite like a field of vibrant, fresh flowers. Hopefully, Pozorrubio can become a home to several flower varieties, offering bright blooms for our eyes to enjoy. We grow our own flowers primarily on our farm located in Pozorrubio. We are one of the flower enthusiasts to introduce these varieties for farm tourism," said Aubregyn Ancheta, the owner of the flower farm together with her husband, Richard.
Ancheta said the farm exhibits different types of flowers from Taiwan that are weather adaptable in the Philippines like multibranch sunflowers, red sunflowers, orange sunflowers, yellow and purple celosias, pink and white gomphrenas, red, blue, and white torenias that are rain resilient type varieties, cosmos and marigold.
"The farm also provides different photo ops (opportunity) structure for guests to achieve instagrammable backgrounds," she said in an interview on Friday.
Farmers' Love farm is Pozorrubio's happiest place for families, children, groups of friends, and even solo travelers as it offers a huge color feast of different flowers in bloom as every corner is a "sure eye candy" that will make all moments and photos more memorable, she added.
Ancheta said they wanted to help in the recovery of tourism as well as provide a livelihood to their townmates.
"The farm aims to support the sustainable recovery of tourism to draw more visitors to hasten local tourism, and to promote inclusive growth through employment generation in our beloved town," she added.
The farm has one in charge, one farm director, and one labor leader. It has 12 helpers who assist in the construction and its maintenance, she said.
Ancheta's household used to grow cherry tomatoes during the height of the pandemic. Unfortunately, extreme drought on the farm and not enough water supply made it difficult to keep the plants alive.
"We used our savings to put a submersible pump in the farm and it went well. However, my husband caught coronavirus disease 2019 and needed almost six months to fully recover and we were not able to maintain the farm by then," she said.
They shifted to growing flower varieties that could adapt to the weather in the town.
"Farmers' Love is all about the hard work. All the things that our farmers do showcases how they love the people," she added.
The farm only charges a PHP50 entrance fee for adults, PHP40 for children, persons with disabilities, and senior citizens.
They also offer pre-nuptials, debuts, and birthday pictorials. (PNA)