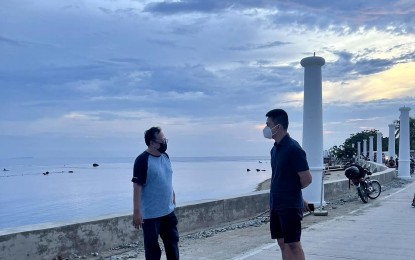 LAOAG CITY – More lamp posts are being installed along the 2.8-kilometer seawall boulevard and fisherman's wharf in the coastal municipality of Currimao in Ilocos Norte province to entice visitors to experience the area's enchanting beauty from dusk till dawn.
"This is the next big thing in Currimao," said Mayor Edward Quilala as he shared the latest tourism infrastructure development in his hometown on Friday meant to reinvigorate tourism and generate jobs and livelihood for his constituents.
According to Quilala, they are now putting the finishing touches on 220 lamp posts each looking like a mini lighthouse that will illuminate the town's coastal villages covering Barangays Pangil, Poblacion 1 and 2, Lioes, Torre, and Salugan.
These lamp posts will be in addition to the existing "Curri Lights," an array of lamp posts powered by generator sets that line the boulevard.
During a visit in the area earlier, Ilocos Norte Governor Matthew Joseph Manotoc suggested that the modern design of the lamp posts should incorporate a touch of Ilocano culture.
"I don't want to make mistakes that is why we have solicited the ideas of our stakeholders to make this project work," Quilala said.
Currimao offers a huge tourism potential with its newly-upgraded seaport which is expected to re-energize the province's cruise industry that will help the tourism sector recover from the adverse impact of the coronavirus disease 2019 pandemic.
The Currimao seawall boulevard has been attracting visitors with several stalls offering various gastronomic treats while the local government unit continues to promote the area as a venue for sporting events, trade fairs, and live concerts.
Aside from its natural landscapes which include its protected coral rock formations, Currimao is also home to a famous heritage village known as Sitio Remedios and many other homegrown food businesses and beach resorts.
Located about 459 kilometers from Manila, Currimao is one of the smallest towns in Ilocos Norte and is also home to rich cultural treasures such as the Tabacalera and Spanish lighthouse ruins, both just a few meters from the seawall. (PNA)