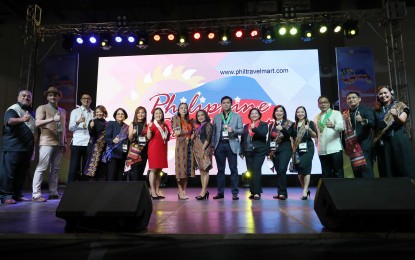 MANILA – Eagerness to travel among Filipinos was evident in the fully packed halls of SMX Convention Center in Pasay City on the opening of the three-day Philippine Travel Mart 2022 on Sept. 30.
The event gathered more than 300 exhibitors, offering up to 50 percent discounts on airfare, accommodations, as well as, local and international travel packages.
The organizer, Philippine Tour Operators Association (PHILTOA), is optimistic the foot traffic could surpass previous figures, saying this was the first time in two years that the travel mart was "99 percent full".
After more than two years of strict travel protocols and lockdowns, PHILTOA Trustee Cecille May Kimpo also sees "revenge travel" increasing their sales and driving the much-needed tourism activities within the country.
"We're very bullish actually. Most of the travel restrictions have eased up and we also have the new president Bongbong Marcos advising that there will be no lockdown anymore," she told reporters in an interview.
"We're also confident because our front-liners are already fully vaccinated and we also have a high vaccination rate. Among others, we have our own protocols so we're ready," she added.
Pre-pandemic, the PTM generated about 53,000 in foot traffic and a total sales of PHP60 million.
Tourism Secretary Christina Frasco said the Department of Tourism (DOT) would exert efforts to help fast-track the sector's recovery and would continue increasing the product portfolio available to both local and foreign tourists.
"The DOT is working on developing new regional tourism surveys that will highlight nature-based tourism, MICE tourism, food and gastronomy, our heritage and culture, health and wellness, the arts, and more," she said.
"All these tourism dimensions will get equal promotion, attention, and support as we expand ourselves from the traditional portfolio and go into multi-dimensional tourism," she added.
The travel fair runs from Sept. 30 to Oct. 2. (PNA)