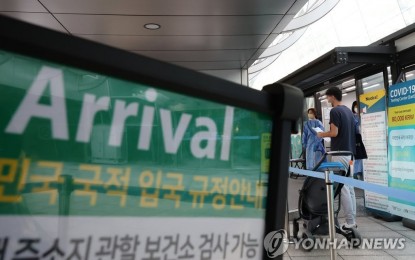 SEOUL – South Korea's new Covid-19 cases remained below 30,000 for the second consecutive day on Saturday as the country lifted the test requirement for arrivals amid an easing virus wave.
The country reported 26,960 new Covid-19 infections, including 301 from overseas, bringing the total caseload to 24,796,014, the Korea Disease Control and Prevention Agency (KDCA) said.
The daily figure is down 1,537 from the previous day and marks the lowest count for a Saturday in 12 weeks.
The latest virus wave, triggered by the spread of a highly contagious omicron variant, has been on a decline since mid-August when it peaked at above 180,000 cases.
As the virus wave has subsided, the health authorities have eased antivirus measures to better support people's return to normalcy.
Starting Saturday, the country removed a Covid-19 polymerase chain reaction (PCR) testing requirement for inbound travelers on the first day of their arrival, the last antivirus restriction for arrivals.
The government also decided to allow in-person visits at nursing homes, senior care hospitals, and other related facilities starting Oct. 4.
In-person visits to such facilities have been banned since July to prevent mass infections among high-risk groups.
The country reported 39 deaths from Covid-19 on Saturday, raising the death toll to 28,445.
The number of critically ill patients came to 356, up four from a day earlier.
Of the locally transmitted 26,659 cases, Seoul reported 5,575 new infections, while Gyeonggi Province which surrounds the capital added 7,782.
Incheon, a port city just west of Seoul, identified 1,504 new cases. (Yonhap)