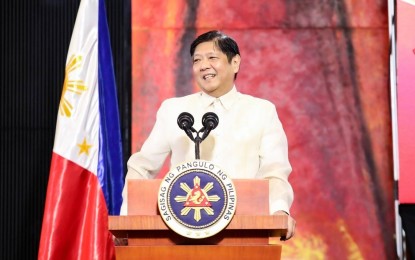 MANILA – Cognizant of high expectations from the public, President Ferdinand Marcos Jr. has mapped out plans and policies to help realize his administration's bid to give the Filipino people a "better" life in a "safer and more prosperous" Philippines.
In his first 100 days in office, Marcos showed a leadership brand that is different from his predecessor, the tough-talking Rodrigo Duterte who is best known for his unconventional style of governance.
Former Press Secretary Trixie Cruz-Angeles, during the Aug. 12 Laging Handa program, described Marcos' approach as "deliberative, science-based and very professional," adding that the President is more focused on finding "short-, medium-, and long-term" solutions to the country's problem, instead of keeping track of his accomplishments.
In his inaugural speech on June 30, Marcos vowed to introduce initiatives and reforms that "will benefit all and will shortchange no one."
"I believe that if we but focus on the work at hand and the work that will come to hand, we will go very far under my watch. You believe that, too," Marcos said when he was formally installed as the country's 17th president.
"We will go further together than against each other. Pushing forward, not pulling each other back out of fear, out of a misplaced sense of weakness. But we are the farthest from weak," he added.
'Comprehensive' economic agenda
One of Marcos' promises was to craft a "comprehensive" economic agenda that will help the Philippines surpass its pre-pandemic level and become a "new and transformed" nation despite the prevailing coronavirus disease 2019 (Covid-19) pandemic.
In his first State of the Nation Address (SONA) on July 25, he expressed confidence that the economic growth momentum "remains firm," but acknowledged that the country is still in the recovery phase "amid elevated uncertainty in the international economic environment."
"The economy is expected to grow by 6.5 to 7.5 percent this year as we continue to reopen the economy while considering the recent external developments," he said.
"In the first quarter alone, GDP (Gross Domestic Product) saw an increase in household consumption and private investments, along with a robust manufacturing industry, high vaccination rate, improved health care capacity, and an upward trend in tourism and employment. This is expected to continue for the rest of the year. This strong economic growth is projected to be sustained and expanded further to 6.5 to 8 percent from 2023 until 2028," he added.
Just a day after he delivered his SONA, Marcos' economic team unveiled the administration's eight-point agenda that will address short-term and medium-term constraints to the economic transformation.
The protection of the purchasing power of Filipino families and mitigation of socioeconomic scarring; reduction of vulnerability and mitigation of scarring from the Covid-19 pandemic; ensuring sound macroeconomic fundamentals; creation of more jobs; creation of quality jobs; creation of green jobs; upholding of public order and safety, peace and security; and ensuring a level playing field are the Marcos administration's socioeconomic agenda.
In August, Department of Budget and Management (DBM) Secretary Amenah Pangandaman said the proposed PHP5.268 trillion national budget for 2023 will serve as a "springboard for the economy's full-speed recovery," since it was crafted based on and in support of the Marcos administration's eight-point socioeconomic agenda.
The proposed budget, anchored on the theme "Agenda for Prosperity: Economic Transformation Towards Inclusivity and Sustainability", would address the immediate and pressing concerns of Filipinos in the near- and medium-term.
Peace-building efforts
Another major feat of the Marcos administration, which runs under the banner of unity, is the unification of the Moro National Liberation Front (MNLF) and the Moro Islamic Liberation Front (MILF) under one Bangsamoro autonomous government.

Making Bangsamoro peace process one of his top priorities, Marcos on Aug. 12 led the mass oath-taking in Malacañang of the new members of the Bangsamoro Transition Authority (BTA), which serves as the interim government in the Bangsamoro Autonomous Region in Muslim Mindanao (BARMM) pending the conduct of first regular parliamentary and regional elections in May 2025.
Some of the new members of the 80-man BTA include Abdulkarim Misuari and Nurrheda Misuari, children of MNLF chairperson Nur Misuari, a development that apparently put an end to the two Moro fronts' 46 years of separation.
On Sept. 15, Marcos graced the ceremonial opening of the BTA Parliament session in Cotabato City where he urged the governing body to pass legislative measures that will bring progress and development to the Bangsamoro region.
The third phase of the decommissioning of combatants and weapons of the MILF also resumed on Sept. 27, or just nearly two weeks since the BTA Parliament began its session.
"This milestone event brings us closer to securing a lasting peace in Mindanao," Marcos posted on Facebook on Sept. 28.

Overseas trips

Apart from peace initiatives, Marcos is also a "very hardworking" leader who makes it "very easy" to "sell" the Philippines to secure more foreign deals and investments from his recent overseas trips, Cruz-Angeles said.
Marcos has traveled to two Southeast Asian nations and the United States.
He first went to Indonesia on Sept. 4 to 6 and then stayed in Singapore on Sept. 6 and 7.
Marcos' inaugural state visits to Indonesia and Singapore bore fruit, securing around PHP804.78 billion (USD14.36 billion) worth of investment pledges.
The pledges were enclosed in 10 letters of intent and 12 memoranda of understanding from 22 Indonesian and Singaporean investors who are eyeing to invest in the sectors of renewable energy, data centers, e-commerce, broadband technology, startups, government housing, and agriculture.
"This will support our country's economic recovery efforts and create more jobs for Filipinos here in our country," he said when he returned to the country on Sept. 7.
Marcos also had a working visit to the United States from Sept. 18 to 24.
Among the highlights of his US trip was his participation in the opening of the 77th session of the United Nations General Assembly (UNGA) in New York City on Sept. 20.
In his speech delivered before UNGA member-states, Marcos emphasized the need to adhere to rules-based international order to settle disputes, pursue digital transformation to help nations keep up, maintain international peace and security, and seek a united efforts to address climate change.
On Sept. 29, Malacañang said Marcos' recent visit to US yielded business deals and commitments with an estimated investment value of USD3.9 billion with job opportunities for 112,285 Filipinos.
US investors are eyeing new or further investments in different sectors in the country, which include Information Technology and Business Process Management, data centers, and manufacturing, the Palace said.
Partnership with private sector
Marcos also sought the cooperation of the private sector to help boost the competitiveness of various sectors, especially the country's agricultural industry which tops the list of his administration's priority sectors.
In July, he formed the Private Sector Advisory Council (PSAC) composed of business leaders to enable his administration to meet its economic objectives with the big corporations' help and support.
His previous meetings with PSAC focused on talks over a possible partnerships to improve and strengthen the agriculture, health, infrastructure, water, energy, and tourism sectors.
Marcos and the business leaders in the country also discussed ways to expand the micro, small, and medium enterprises.

Legislative priorities
Marcos' SONA mentioned 19 priority measures which aim to provide better government services, create new government departments and offices, introduce tax reforms, help enterprises recover from the pandemic, improve the defense and energy sectors, and develop lands.
To make the government "more agile and responsive," the DBM crafted the rightsizing plan and transmitted a copy of it to Congress in August.
The plan will determine which among the 187 government agencies with around two million personnel may be streamlined through merging, restructuring, or abolition.
It excludes teaching and teaching-related positions, medical and allied medical positions or those in the health sector, and the military and other uniformed personnel.
The proposed E-Governance Act is also among Marcos' priority measures to help attain his goal of digitalizing the government by promoting the use of the Internet, Intranet, and other Information and Communication Technology in all government services and processes.
In support of Marcos' plan, a bill institutionalizing the transition of government to e-governance has been filed in the 19th Congress.

'Friend' of all nations
Marcos, just like Duterte, charted an independent foreign policy that continues to make the Philippines a "friend to all and an enemy to none."
In his meeting with US President Joe Biden in New York, he ensured that the Philippines stays as a "partner, ally, and friend" of the US.
"We will continue to be a good neighbor — always finding ways to collaborate with the end goal of mutually beneficial outcomes. If we agree, we will cooperate and we will work together. And, if we differ, we will negotiate until we reach an agreement," Marcos told members of the Asia Society in New York City on Sept. 23.
Despite his current stance, Marcos repeatedly said he will never surrender "even a square inch of territory" of the Philippines to any foreign power.
The assurance was made amid the Philippines' long -standing territorial disputes with China and other littoral states in the resource-rich South China Sea.
Different anti-narcotics drive
When it comes to addressing the drug problem in the country, Marcos decided to take a new approach.
The strategy is "slightly different" as it is more focused on running after drug offenders who would "actually make a difference" in the narcotics supply once apprehended.
On Sept. 27, the Philippine National Police said it is taking a more holistic approach to its anti-narcotics drive following Marcos' directive.
Marcos said there was already a "working group" tasked to formulate a new policy that will focus on the treatment and rehabilitation of drug users.
'PinasLakas' campaign vs. Covid-19
Since the country is still grappling with the pandemic, the Marcos administration continued to ramp up its booster vaccination drive against Covid-19.
Through the Department of Health, the "PinasLakas" vaccine campaign was launched to raise the number of Filipinos receiving the booster shot against the coronavirus.
To show the importance of receiving an additional dose of the vaccine, Marcos received a booster shot when he visited a vaccination site at a mall in Manila on Aug. 17.
As of Sept. 25, a total of 73,017,553 individuals have been fully vaccinated against Covid-19. Around 19,211,908 of this figure received a booster shot, according to the figures released by the DOH.
"Iba't iba mang mga programa at proyekto ang nailunsad at naisagawa sa nakaraang isandaang araw, lahat ng ito ay upang mapagtibay ang tatlong pundasyon ng ating pagbangon - kalusugan, kabuhayan, at kapayapaan. Sa gabay ng Panginoon at inyong pakikiisa, ipagpapatuloy lang po natin at pag-iigihin ang ating nasimulang trabaho at pagsisilbi sa bayan. Sa ating pagtutulungan at pagkakaisa, sama-sama tayong babangon muli (The different programs and projects we launched in the past 100 days will strengthen the foundation for our recovery – health, livelihood, and peace. Under the Lord's guidance, we will continue to work hard and serve the country. With your help and a united stand, we will rise again)!" Marcos posted on Facebook on Saturday. (PNA)