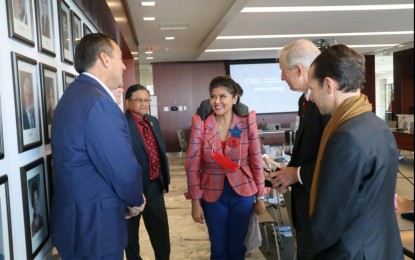 MANILA – Senator Imee Marcos affirmed the strong alliance between the Philippines and the United States but said the country will not inhibit engagement with China, which is included in a seven-point plan that she hopes to expand through confidence-building measures, joint development, and finalizing a code of conduct in the South China Sea.
Marcos attended a roundtable forum at the Center for Strategic and International Studies (CSIS) in Washington D.C. on September 26.
"Do not let us choose between the US and China," Marcos told participants from the US Institute for Peace, US-Asean Business Council, Center for a New American Security, and Asia Foundation.
She said the Philippines and its Southeast Asian neighbors are calling for a "rational approach" in relations between Washington and Beijing to prevent a return to the "melodrama" of the Cold War.
The Philippine-US foreign policy which Marcos hatched has a seven-point plan that includes reexamining rather than revising the Mutual Defense Treaty (MDT) and Visiting Forces Agreement (VFA) and how the language of both accords is to be implemented; assess the Enhanced Defense Cooperation Agreement (EDCA) delivery of development aid; and increased military assistance and support for local defense contractors.
The MDT states the settlement of any international disputes, in which the US and the Philippines may be involved, "by peaceful means in such a manner that international peace and security and justice are not endangered and to refrain in their international relations from the threat or use of force in any manner inconsistent with the purposes of the United Nations."
Undersecretary Jose Faustino Jr., Department of National Defense Officer-in-Charge, also met recently with American counterpart Lloyd Austin III at the US Indo-Pacific Command in Honolulu, Hawaii, where they discussed "increasing interoperability" between the armed forces.
"The Philippines and the US have a shared history, spanning more than 70 years as friends, partners, and allies. In those years, our cooperation in political, economic, and socio-cultural relations has expanded, and our ties, including that between our defense establishments, have continued to grow stronger," Faustino said in a previous statement.
Former President Rodrigo Duterte canceled the VFA in February 2020 to allow the country to "find a more enhanced, mutually beneficial, mutually agreeable, and more effective and lasting arrangement on how to move forward in our mutual defense."
It was restored in July last year.
EDCA, signed in April 2014, allows US troops access to designated Philippine military facilities, right to build facilities, and preposition equipment, aircraft, and vessels, but rules out permanent basing.
Apart from military affairs, Marcos' foreign policy blueprint eyes trade opportunities in deep-sea fishing and in the production and export of Philippine metals and semiconductor chips through a Green Metals Initiative and cooperation under the US CHIPS (Creating Helpful Incentives to Produce Semiconductors) and Science Act of 2022.
The CHIPS and Science Act focuses on federal aid to encourage the construction of microprocessor manufacturing facilities in the US.
Marcos also thanked USAID (United States Agency for International Development) and the US-Philippines Society for their constant assistance in disaster relief and recovery.
She encouraged professional exchanges, particularly among health care workers, teachers, and academics, for better training, a transfer of know-how, and potential job creation, echoing some of the topics discussed by President Ferdinand Marcos Jr. with US President Joe Biden in New York two weeks ago. (PNA)