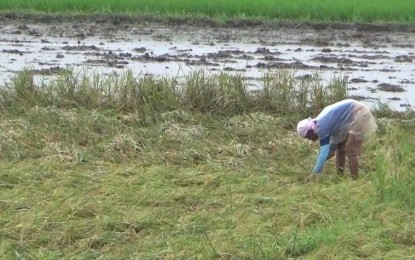 MANILA – The Department of Agriculture (DA) said Monday that agricultural damage caused by Super Typhoon Karding in several regions in Luzon and Visayas has reached PHP3.12 billion.
In its latest bulletin, the DA-Disaster Risk Reduction and Management Office said "Karding" brought damage to 170,762 hectares of farmlands, affecting 108,594 farmers and fishers throughout the Cordillera Administrative Region (CAR), Ilocos Region, Cagayan Valley, Central Luzon, Calabarzon, Bicol and Western Visayas.
"Affected commodities include rice, corn, cassava, abaca, high-value crops, livestock and poultry, and fisheries. Damage has also been incurred in agricultural infrastructures, machinery, and equipment," the DA said.
The majority of the volume loss was recorded in rice production, totaling 134,205 metric tons (MT) worth PHP2.05 billion, with Nueva Ecija incurring the biggest damage and loss.
The value of loss in high-value crops was recorded at PHP831.29 million, with Nueva Ecija and Bulacan being the most affected areas. These included "assorted fruits, vegetables, legumes and spices."
Moreover, damage cost in fisheries is now at PHP116.55 million, including loss in fish production, fishing boats, and gears.
Other recorded losses also included PHP65.40 million for corn; PHP12.86 million for livestock and poultry; PHP1.47 million worth of cassava loss in Tarlac; PHP118,.350 cost of damage for abaca in Quezon; PHP26.30 million loss in infrastructure including "damaged solar panels, ventilators, spandrel, and roofings," among others; and PHP12.20 million worth of loss in machinery and equipment.
As the figure mounts, the DA also increased its assistance to be distributed to affected farmers and fishers.
Available interventions from the agriculture department include PHP185.69 million worth of rice seeds, PHP23.16 million worth of corn seeds and PHP13.55 million worth of assorted vegetable seeds; PHP2.45 million worth of animal heads, drugs, and biologics for livestock and poultry; PHP 554,000 worth of fingerlings and fishing paraphernalia to affected fisherfolk from Bureau of Fisheries and Aquatic Resources.
Farmers and fishers can also avail themselves of loans as much as PHP25,000 through the Survival and Recovery Loan Program.
Kadiwa stores are also in place to avoid the sudden increase of commodity prices in affected areas, while the DA's utilization of the Quick Response Fund is also activated.
Earlier, the DA assured the public that the supply of basic commodities "will be sufficient during the holiday season," despite all the challenges from increasing farm inputs up to calamities. (PNA)