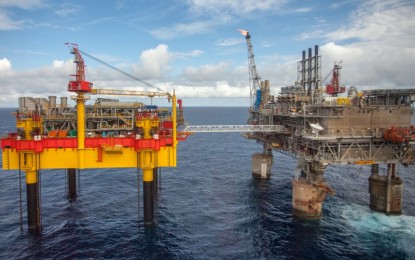 MANILA – The Department of Energy (DOE) has approved the acquisition deal between Prime Infrastructure Capital, Inc. and Shell Philippines Exploration B.V. (SPEX) on the latter's 45-percent stake in the Malampaya Service Contract (SC) 38.
This, after the DOE completed the review of the transaction in accordance with Presidential Decree 87 and Department Circular No. 2007-04-003 for the transfer of rights and obligations in petroleum service contracts.
"Prime Infra was found to be technically, financially, and legally qualified as a transferee and a successor to Shell as operator of Malampaya natural gas project," the DOE said in a statement Monday.
With the approval of the transaction, SPEX will now be a wholly owned unit of Prime Infra and will continue to operate the Malampaya natural gas field.
"The DOE's approval is conditioned on SPEX remaining to be a subsidiary of Prime Infra, and on the continuing validity of Prime Infra's commitments and undertakings to the DOE in respect of SPEX's obligations as operator of Malampaya Service Contract 38," it added.
In a separate statement, Prime Infra chairman Enrique Razon Jr. has welcomed the decision of the DOE as this would allow the company to further explore the natural gas field.
"We will contribute by doing all that can be done to produce as much gas as possible to sustain production in support of the power demand in Luzon," Razon said.
Prime Infra said it is committed to deliver "outstanding operational performance and further the potential of SC38 covering the Malampaya deep-water gas-to-power project to ensure continuity of production as long as the reserves support it".
"Prime Infra's energy portfolio has always been aligned with the national government's objective towards attaining energy independence and security, while reducing the country's reliance on fossil fuels. Prime Infra is well-positioned to carry on the world-renowned track record of the Malampaya asset and therefore, the next urgent step for the company is to sustain and expand gas production while we promptly address the license extension for SC38," Prime Infra president and chief executive officer Guillaume Lucci added.
The Malampaya natural gas field is one of the country's most crucial power assets as it supplies 20 percent of Luzon's power requirements.
The gas field began its operation in 2001, with its license set to expire in 2024. (PNA)