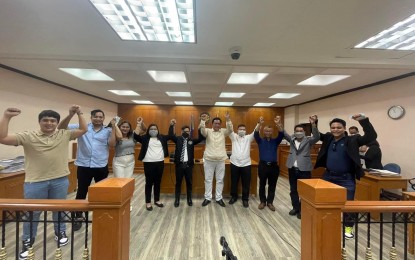 DUMAGUETE CITY – A special board of canvassers proclaimed Roel Degamo as the duly-elected governor of Negros Oriental at the Commission on Elections (Comelec) central office in Manila on Monday after the votes of a nuisance candidate were transferred and counted in his favor.
The proclamation booted out the previously proclaimed winner, Pryde Henry Teves.
After the final recount, Degamo got 331,726 votes, including those transferred from Ruel Degamo, while Teves had 301,319.
The reelectionist governor got 281,773 votes during the May 9 polls.
On September 27, the Comelec en banc ruled that another candidate for governor, Grego Gaudia, whose name appeared on the official ballot as Ruel Degamo, was a nuisance bet.
The Comelec also annulled the proclamation of Teves.
A Certificate of Canvass of Votes and Proclamation of Winning Candidate were handed over to Degamo, who was accompanied by his wife, Mayor Janice Degamo of Pamplona, Negros Oriental, and other mayors.
Teves, who led Monday morning's flag-raising rites attended by capitol officials and employees, did not comment on the matter.
Provincial Legal Officer Ronel Depalubos told the Philippine News Agency that the Teves camp had filed for a temporary restraining order with the Supreme Court (SC) to stop the Comelec ruling.
Over the weekend, Teves said in a radio program he will step down if the Department of the Interior and Local Government and the SC ask him to do so.
Degamo has not returned to the province as of posting time and it was not immediately known when he will report to the capitol to assume office. (PNA)