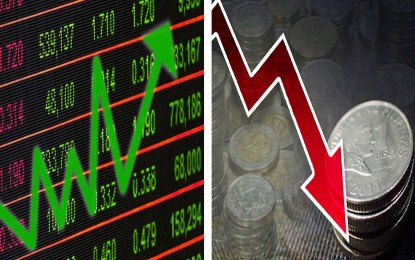 MANILA – The peso recorded another record low against the United States dollar given the hawkish signals from Federal Reserve authorities while bargain hunting lifted the local bourse's main index on Monday.
The peso closed 59.00 against the US dollar from 58.625 last Friday.

It opened the day at 58.75, a depreciation from its 58.6 start in the previous session.

It traded between 58.72 and 59.00, bringing the day's average to 58.877.

Volume reached USD666.7 million, lower than the USD1.06 billion at the end of last week's session.

Rizal Commercial Banking Corporation (RCBC) chief economist Michael Ricafort traced the peso's depreciation to "continued hawkish signals from Fed officials" and the high yield of the US' 10-year Treasury, which remains among its 12-year high of 3.79 percent.

"The peso is also weaker as the markets also anticipate the latest Philippine inflation data that could pick up on October 5, 2022," he said.

Other factors for the currency trading during the day include the rise in global oil prices and the possibility for further hikes in the Bangko Sentral ng Pilipinas' (BSP) key rates, he added.

Ricafort forecasts the peso to trade between 58.80-59.00 to a US dollar on Tuesday.
After sliding for the past several days, the Philippine Stock Exchange index (PSEi) gained 0.73 percent, or 42.08 points, to 5,783.15 points.

All Shares followed with a jump of 0.20 percent, or 6.23 points, to 3,114.13 points.

Most of the sectoral indices also gained during the day, namely Holding Firms, 1.07 percent; Property, 0.62 percent; Financials, 0.57 percent; and Industrial, 0.11 percent.

On the other hand, Mining and Oil fell by 1.37 percent and Services by 0.19 percent.

Volume was thin at 613.35 million shares amounting to PHP3.95 billion.

Losers surpassed gainers at 139 to 51, while 43 shares were unchanged.

"Philippine shares were bought up towards closing after bargain hunters made bets that central bankers across the globe would step in to combat inflation while making sure growth would not falter," said Luis Limlingan, Regina Capital Development Corporation (RCDC) head of sales.

This, as policy rates normalization in line with the bid to help tame decades-high inflation rate has already affected currencies around the globe.

Limlingan said "reports have been circulating that the Fed (Federal Reserve) itself will hold an emergency meeting in light of the recent development in the currency and fixed income securities market."

He added investors are bracing for an economic report-filled week, with those coming from the US including manufacturing purchasing managers' index (PMI), unemployment rate and non-farm payrolls while in the local front –inflation and unemployment rates. (PNA)