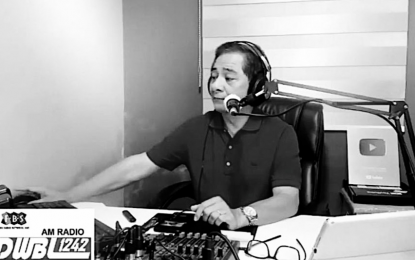 MANILA – The Presidential Task Force on Media Security (PTFOMS) condemned the "senseless killing" of veteran broadcaster Percival C. Mabasa, more popularly known as "Percy Lapid", who was shot to death on Aria St., Sta. Cecilia Village, Talon Dos, Las Piñas City Monday night.
"We at the Presidential Task Force denounce the murder of Percy Lapid and send our deepest condolences to the family, friends and colleagues of the victim," the PTFOMs said in a press statement Tuesday.
The task force assured that it "will not rest until the perpetrators of this heinous crime are brought to justice."
"There is absolutely no justification for murder," it added.
Based on the initial report submitted by Las Piñas City police chief Col. Jaime Santos, the victim, while driving along Aria St. on board his black Toyota Innova at around 8:30 p.m., was shot by two gunmen on a motorcycle without plate number, "causing his instantaneous death."
The victim's vehicle crashed at the gate of BF Resort Village.
The PTFOMS has been in close coordination with Philippine National Police (PNP) and the Media Security Vanguards, in the investigation. The PNP is one of the member agencies composing the PTFOMS.
While it is still too early to establish the motive behind the incident, the PTFOMS will presume the killing to be "work related" as a matter of procedure so that the full might of the Presidential task force will be brought to bear against the perpetrators.
Media Security Vanguards are PTFoMS Focal Persons composed of PNP's Public Information Officers (PIO) and serve as the "first line of defense" of journalists all over the country as they will be the first to receive and respond to all threats leveled against any media worker.
Through the efforts of PTFOMS, PIOs nationwide were officially designated as Focal Persons last January of this year, with PIO head Police Brig. Gen. Roderick Augustus Alba as Chief Vanguard.
The PTFOMS reminds all journalists, broadcasters and media practitioners to report any incident of threat and harassment so that the matter can be thoroughly and swiftly investigated. The PTFOMS can immediately provide any media worker with real-time police protection if warranted.
PTFOMS was created in 2016 with a devoted mandate to protect the life, liberty and security of media workers in the country, with veteran journalist Joel Sy Egco as its first Executive Director.
Egco is continually monitoring developments on the safety of journalists in the country in an unofficial capacity and is in close coordination with Alba and the rest of the Vanguards. (PNA)