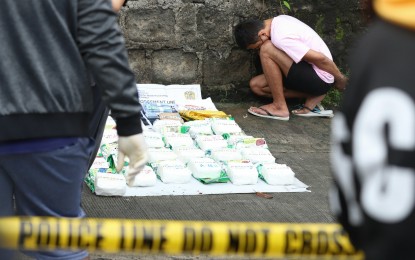 MANILA – As President Ferdinand Marcos Jr. took over the helm of the country, he also took over the responsibility of ensuring peace and order which is vital in making the country conducive for businesses and investments both local and foreign.
Efforts to achieve this vision include curbing, if not totally wiping out the illegal drug problem which destroys many lives and results in many societal problems such as crimes. At the forefront of this crusade is the Philippine National Police (PNP) which continues to work with other law enforcement agencies and spares no effort in going after those involved in this nefarious activity.
In the early months of the Marcos administration, the PNP reported the seizure of a total of PHP1.95 billion worth of illegal drugs.
These include 202.38 kilos of shabu, 365.4 kilos of dried marijuana leaves, over 2.6 million pieces of fully grown marijuana plants, and 37.57 grams of kush or high-grade marijuana.
A total of 12,309 sting and search warrant operations resulted in the arrest of 14,737 suspects while 28 armed suspects were killed after resisting arrest.
The period covers the first 17 days of September where the PNP recorded zero deaths in the conduct of 1,790 operations -- an indication that the government does not tolerate extrajudicial killings, particularly among drug offenders.
In his speech during a meeting with Asia Society in New York last September, Marcos said he wants to examine and learn lessons from the past administration in terms of pursuing the anti-drug campaign.
While acknowledging that his predecessor Rodrigo Duterte has focused on the enforcement side, Marcos said he wants a holistic approach in dealing with the drug menace.
"And let us also look at prevention. Let us -- education to our young people to say that you know this is a dead end. This will get you absolutely nowhere. It will get you in jail. It will get you killed. And even if it does not do that, this will take away your future. And second part of that is cure. To be more sensitive and more sympathetic to those who actually have gotten caught up in this lifestyle. And so that is something that we are now promoting. We are trying to learn which are the best methods now to pull our victims… pull them out of that culture and to help them start again and do live a good life as good and constructive members -- contributing members of society," the President said.
Marcos, however, said a relentless crackdown on high-value targets and big-time suspects will continue.
"I simply told them 'look I'm not interested in the kid who makes 100 pesos a week selling weed'. That's not the person that I want you to go after. I want you to go after people who -- if we get them, if we neutralize them, or put them in jail, we put them away, whatever it is -- will make an actual difference so that the supply of drugs, the system of distribution, the system of importation of drugs because much of it really does come from abroad. That will actually make a difference, it will put a stop to it. And that's what we are working on right now," he added.
Meanwhile, PNP chief Gen. Rodolfo Azurin Jr. said the significant results of anti-drug operations prove the aggressiveness of the intelligence-driven supply reduction strategy in support of the overall anti-illegal drugs campaign, with a strong emphasis on non-violent methods of effecting arrest while ensuring the protection of operating teams when engaged in a violent confrontation with armed suspects through proper equipment and training.
"It should be worthy to note that the objective of law enforcement to effect the arrest of the offender has been satisfied in these operations with only barest minimum application of reasonable and necessary force, and consistent with requirements of transparency thru digital recording, presence of witnesses, and proper authority of operating units," Azurin stressed.
He said the PNP's aggressive anti-criminality and drug campaign is a program of organizational discipline through a combination of preventive, punitive, and restorative approaches to internal reform.
The police force is also learning the best method to pull the victims out of this culture and closely work with other agencies in the rehabilitation of identified drug users in every community.
"Tulong-tulong tayo para mailigtas mula sa pagkalugmok sa droga ang ating mga kababayan (Let us help each other to save our countrymen from drug addiction. While we ensure that there is extensive operations against major drug dealers, we also would like to look at this approach in a holistic manner," then PNP chief for administration Lt. Gen. Jose Chiquito Malayo said.
"The rationale is no matter how much we halt drug activities on the ground, drug supply will always be there if these major operators remain untouched. The PNP makes sure that intelligence gathering is thorough and rigid to carefully identify these personalities," he added.
Engaging communities
Meanwhile, the Philippine Drug Enforcement Agency's (PDEA) efforts are anchored to its main anti-illegal drug strategy, the Barangay Drug Clearing Program (BDCP) while integrating therein the supply reduction and demand reduction efforts of the agency.
As of Aug. 31, a total of 25,917 barangays were declared drug-cleared, 5,851 as drug-free barangays, and 9,590 as drug-affected barangays while from July 1 to August 31, through the implementation of BDCP, 283 barangays were declared as drug-cleared and 70 barangays as drug-free.
The PDEA conducts lectures, symposia and other anti-illegal advocacy activities to prevent people from using dangerous drugs.
As part of the demand reduction efforts, PDEA leads the implementation of the Balay Silangan Reformation Program which is instrumental in reforming and reintegrating drug offenders.
From July 1 to Aug. 31, 15 Balay Silangan Reformation Centers were established, resulting in a total of 383 centers established since its inauguration in 2018.
The centers have produced 4,999 graduates and 1,567 employed individuals, and are currently catering to 1,074 clients.
Meanwhile, the Department of the Interior and Local Government (DILG) also renewed its call for local chief executives (LCEs) to help strengthen Barangay Anti-Drug Abuse Councils (BADACs) in their respective jurisdictions as the government looks to sustain the campaign against illegal drugs.
DILG Secretary Benjamin Abalos Jr., who served as mayor of Mandaluyong City for three consecutive terms, emphasized the need for LCEs to help in strengthening BADACs to tackle the drug menace at the grassroots level.
The DILG chief said BADACs play a critical role in the whole-of-government approach in countering the proliferation of illegal drugs in the communities.
"Nanawagan tayo sa mga gobernador at mayors na siguruhin na ang ating mga BADAC ay maayos na gumagana at nakakatulong sa pagprotekta sa mga komunidad laban sa iligal na droga at mga tagapagpalaganap nito (We call on the governors and mayors to make sure that our BADACs work properly and help protect communities against illegal drugs and their distributors)," Abalos said.
BADAC is the grassroots program of the DILG aimed at organizing barangay officials and other stakeholders as the first line of defense in countering drug-related crimes in barangays.
Among its responsibilities are identifying drug-affected areas; creating the BADAC Plan of Action; equipping Barangay Tanods and BADAC Auxiliary Team on their roles and functions in the campaign against illegal drugs; assisting persons who used drugs (PWUDs) who surrendered to Barangay Rehabilitation and Referral Desk; and, monitoring individuals who are undertaking Community-Based Rehabilitation Treatment.
Ensuring culprits go to jail
For Abalos, eradicating the menace does not end with the confiscation of narcotics but with culprits ending up behind bars, hence, the need to upgrade skills of police investigators handling drug cases.
"It is important that our police investigators are well versed in criminal law. Each criminal act has its own elements and for that, each one of the investigators knows these elements very well," he added.
He said enhancing the police's investigation expertise is important as this would determine the fate of a case.
"This single act will determine whether or not the case would be dismissed or not. When it reaches the court, remember, the evidence that is needed in criminal law is proof beyond reasonable doubt," he added.
Based on the latest data, Abalos said the 220,000-strong PNP has only 22,774 investigators, 123 of whom are law graduates.
The PNP has partnered with the Department of Justice for a "sort of a mentorship" for police investigators to help them gather lawful and fool-proof evidence in cases. (PNA)