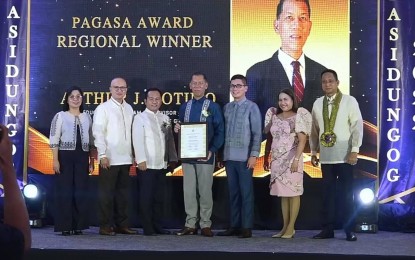 ILOILO CITY – An educator, who is the recipient of a Civil Service Commission (CSC) award, is eyeing Guimaras to go digital despite the challenge of Internet access in the province.
Arthur J. Cotimo, Education Program Supervisor of the Schools Division Office (SDO) of the Guimaras Learning Resource Management Section, said the recognition he received from the CSC as one of the Pag-asa awardees has inspired him to come up with more learning materials.
Cotimo said going digital where text, sound, and video are integrated could facilitate faster learning compared to printed modules because learners could interact.
"There are a lot that we can do for Guimaras, but we have limitations like funding. I will propose some projects for my office in the future, especially on (the) digitization of resources," he said in an interview on Tuesday.
In the previous school year, Cotimo created a YouTube channel where he uploaded more than 40 videos of up to six minutes each, containing learning materials and essential lessons that would help Kindergarten and Grade 1 pupils learn how to read.
"I was forced to design my own YouTube channel. I made a research to be able to provide quality materials through YouTube for mother-tongue because (it is how) we address local learners, especially Kindergarten and Grade 1," he added.
The uploaded videos were accompanied by worksheets that could be downloaded and printed.
While he has yet to know the reach of his channel, he estimated his viewers at 5,000. Teachers downloaded and shared them with parents and other teachers.
The Guimaras Learning Resource Management Section has likewise been able to pursue Project Converge to Contextualize Learning Resources where learning materials with higher concepts were localized, especially when resources and textbooks were unavailable during the health pandemic.
Cotimo said they developed 1,800 learning modules at the division level, 262 at the regional level, and 25 at the national level.
The modules for Mathematics at the national level were used nationwide while at the division level, about 39,000 learners in Guimaras benefited from their learning resources.
He also introduced the carousel approach or the district-based library that enabled learners to have wider access to books and other supplementary reading materials available at the division despite the pandemic.
Resources are drawn by the district libraries from the division, depending on the number of schools that they covered.
Books stay in one school for a month and are later rotated to other participating schools of the district.
The division has 217 book titles with 15,000 copies. Each district was able to borrow 4,000 to 5,000 titles. (PNA)