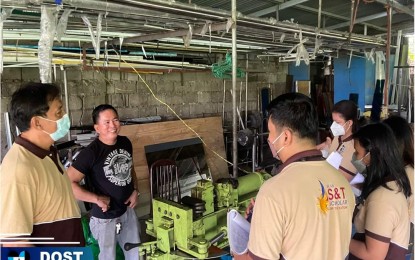 DAGUPAN CITY – At least 14 micro, small and medium enterprises (MSMEs) in Pangasinan have received a total of PHP9.7 million soft loan from the Department of Science and Technology (DOST) as a start-up fund for their businesses.
In a virtual forum hosted by the Philippine Information Agency on Tuesday here, DOST Pangasinan project assistant Edward Ugale said the assistance was given to the MSMEs under the Small Enterprise Technology Upgrading Program (SETUP), which is a nationwide strategy to encourage these firms to improve their products, services, operations, productivity, competitiveness, and encourage innovations.
"We recognize the role of MSMEs in the progress of our country. The soft loan aims to help businesses to upgrade their machinery, hasten their production, and cater to the demand for their products and services," Ugale said.
The assistance under SETUP has no collateral required from the beneficiaries and no interest in their loan.
"A grace period of six months was also given to them before they start to refund the amount," he said.
The MSMEs who are qualified to avail of aid under SETUP are those in food processing, furniture, gift, decors, and handicrafts, agriculture, marine, aquaculture, fishery and livestock, metals and engineering, information and communications technology, health and wellness products, halal products, and other regional industry priorities, he added.
Ugale said they have availed soft loans of up to PHP3 million depending on the need of the MSMEs for specific technology or machinery that are used to speed up their products or services.
He said MSMEs whose businesses are operational for three years may write their letter of intent to DOST to avail of the SETUP.
Ryza Macaraeg, an MSME involved in milkfish production, thanked the DOST and other national government agencies for their assistance to her business.
"DOST SETUP was the first that helped our business in 2017. Aside from the machinery, the training and seminars have helped us a lot," she said. (PNA)