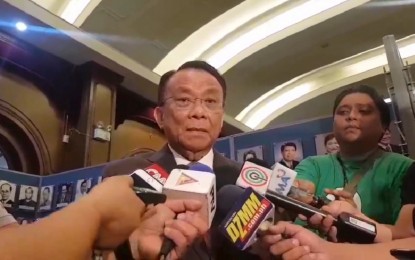 MANILA – President Ferdinand "Bongbong" Marcos Jr. did not announce his sudden trip to Singapore on Sunday due to "security reasons", Executive Secretary Lucas Bersamin said Tuesday.
Bersamin made this remark amid criticism over the President's trip which was not advised to media who would usually cover him.
"Baka mamaya abangan siya sa (People might be expecting him in) Singapore. Alam mo (You know) there are so many things you cannot publish beforehand. Even I as a minor official, I cannot divulge where I am going," he told reporters in an interview.
Despite admitting that he did not have knowledge about the trip's funding, Bersamin said it was "irrelevant" because it involved meeting with individuals relevant to the country's business activities.
"You don't need to be too particular about where the funds were sourced kasi (because) he was still performing his job as president while he was abroad, although that is not an official state visit," he said.
He also suggested that Marcos' trip might have even been fully sponsored.
"Baka libre pa nga 'yun e. Ibig sabihin (I think it might have even free. This means) he went there, I don't think he bothered anyone. But he must have been invited there because his presence there might have added some suspense, some intrigue, and some importance to that event," Bersamin said.
"Alam mo our President, naging matinee idol na e (You know, our President is more like a matinee idol now). His presence in an event like that would be well appreciated and it might have attracted more audience-wise. It's not immodest, it's not contrary to morals," he added.
'Private time'
Earlier, Marcos himself confirmed he went to Singapore to watch the Formula One Grand Prix race and meet investors on the sidelines.
He said he will be sharing "more details" on his engagement in Singapore "at a later time."
Bersamin insisted that Marcos and his family members have the right to their "private time" in Singapore.
"The President and first family are regarded with such a great value…Under the Administrative Code, the welfare of the first family is of the concern to the state. So, if the President is entitled to his private time, let's assume na private time niya 'yun kasi (that's his private time because) he chose to go there for a specific purpose na manood, 'yun ang primary niya (to watch, that was his primary reason). But he could go there also for other purposes equally important," he said.
"You are entitled to your own private time, private moments, etcetera. If you have to do something, you should not be impacted by others who may not agree with you," he added.
Bersamin noted that regardless of the reason for flying to Singapore, Marcos was "doing something" for Filipinos.
He said that aside from Marcos, other foreign dignitaries were also present during the event including Singaporean Foreign Affairs Minister Vivian Balakrishnan and Singaporean Manpower Minister Tan See Leng, among others.
This is Marcos' second time to visit as president. The first was during his state visit to the city-state on Sept. 6 and 7 where he brought home USD6.54 billion (PHP374.57) in investment pledges. (PNA)