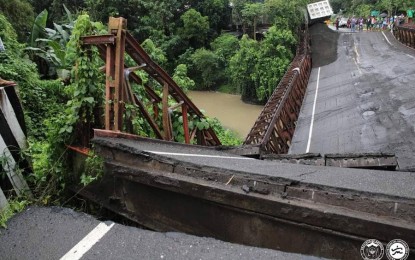 SAN JOSE DE BUENAVISTA, Antique – The Antique government has imposed a moratorium on the land transport of quarry and other heavy materials to and from the province effective Oct. 3, 2022 until revoked.
The moratorium was contained in Executive Order (EO) number 215 issued by Governor Rhodora Cadiao late Monday covering quarry and other materials that are hauled or transported on trucks or trailers to protect the roads and bridges from further deterioration due to heavy loads.
The order was issued following the collapse of a bridge connecting Barangays Buhang in Hamtic town and Barangay Egaña of Sibalom town on Sept. 26 after a 12-wheeler dump truck loaded with more than 30 cubic meters of quarry materials attempted to cross.
"It has become of public knowledge that overloaded trucks and trailers have also contributed to the deterioration and wrought major damage upon long stretches of the upland road from Antique to its provincial boundary with Iloilo," the EO said.
The collapse of the bridge and the major damage to the upland road resulted in inconvenience and pose hazards to the general public necessitating immediate emergency executive measures such as the implementation of the moratorium, the governor added in the order.
The moratorium, however, does not apply to the transport of such materials by sea so as not to impair the "Build! Build! Build! Program" that ushers significant infrastructure improvements.

In an interview with Antique provincial legal officer Junevee Jungco on Tuesday, he said the EO issued by the governor has an indefinite period of validity and shall continue to be effective until revoked or recalled when warranted by circumstances.
"With the EO issuance, I then urge everyone to follow it to the letter," he said. (PNA)